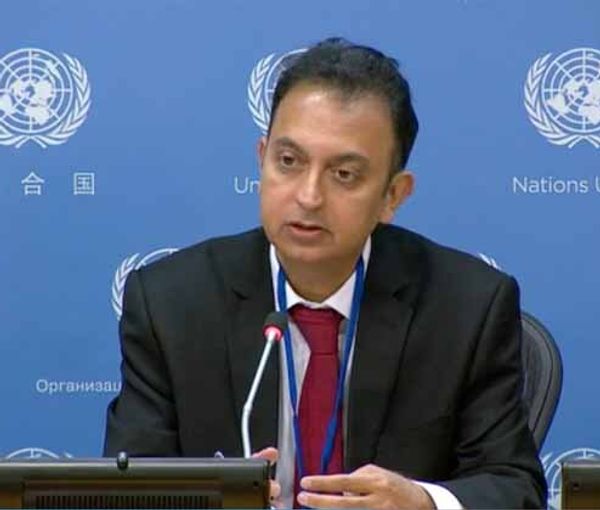 UN Rapporteur Bemoans Imprisonment Of Foreign Nationals In Iran
In a report provided to media this week, the United Nations Special Rapporteur on Iran has highlighted the detention of foreign and dual nations.
Javaid Rehman's report was provided to the media this week. He will present the report to the United Nations Human Rights Council (UNHRC) between February 28 and March 3.
The report says that "many of those arbitrarily detained [in Iran] have serious underlying medical conditions that have been left untreated, or health conditions that have significantly deteriorated." Rehman suggests the prisoners are a "means to put pressure on foreign governments."
Iran has always argued that those convicted by its courts have received due process and rejected Rehman's earlier reports. Rehman, a professor at Brunel University, has not visited Iran since he was appointed in 2018, because Iran has banned UN and other human rights investigators from visiting the country.
Javaid's focus in the report is on American, British, French, German, Austrian, and Swedish prisoners in Iran, several of whom were convicted by Revolutionary Courts on vague security charges after trials that do not meet international standards of due process. The accused often cannot choose their defense attorneys and they have no access to prosecution cases. Trials take place behind closed doors, and duration of detentions before trial are arbitrary. International human rights organizations have documented numerous instances of violations.
Javaid's new report also expresses concern over threats against foreign-based journalists and their families inside the country and urged Iran to ensure that "human rights defenders…are not threatened with or subjected to intimidation, harassment, arbitrary arrest, deprivation of liberty or life or other arbitrary sanctions."
Rehman cites the case of Ahmadreza Djalali, an Iranian-Swedish emergency-medicine and disaster specialist, who he says was in prolonged solitary confinement after November 2020 and is in urgent need of surgery and dental care.
Rehman also urges Iran to conduct an "independent, impartial and transparent inquiry" over the 2019 fuel protests and to hold to account "all perpetrators of human rights violations" during those and other protests, including those in Khuzestan province and Esfahan in 2021.
The UN Special Rapporteur reports that in the first 11 months of 2021, at least 275 people were executed in Iran, including at least two under 18 at the time of their offence. He says that drug-related executions went up year-on-year during the 11 months and that there was an increase in executions of those from two non-Persian minority ethnicities, Baluchis and Kurds.
"The serious shortcomings in the legal framework and justice system, together with systemic violations of due process and fair trial, render most, if not all, executions in the Islamic Republic of Iran arbitrary deprivation of life," Rehman writes. The rapporteur highlights the case of Khezr Ghavidel, whose exoneration by the Supreme Court in July 2021 came nearly a year after his execution for drug offences.
In a response in October to a previous report from Rehman, Zahra Ershadi, Iran's deputy ambassador to the UN, said such efforts aimed "to use human rights as an instrument against other countries" and that the rapporteur had used information provided by "terrorist groups" whose hands were "covered with blood."
Ershadi said that Western countries, especially Canada, had pressed for Iran to be singled out as one of the few countries allocated such a rapporteur.