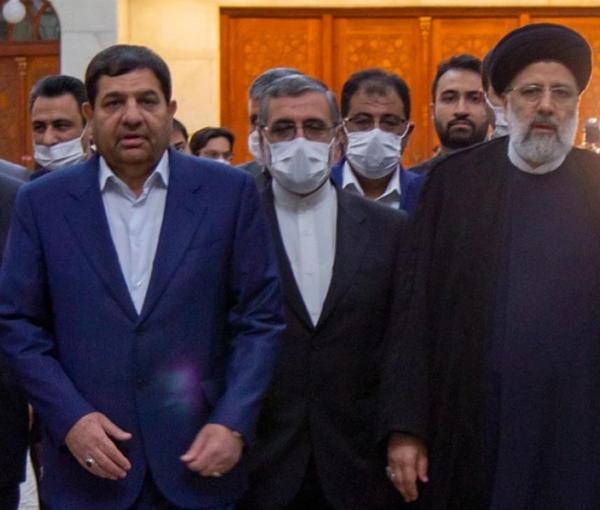 Raisi Critics Say Nepotism High, 'As If They Conquered A Foreign Country'
Media and critics have published the names of many appointees in Iran's government who are relatives of top officials, after the president's categoric denial.
Raisi responded to a question in a televised interview Tuesday night about giving big jobs to his and his ministers' relatives and friends, by saying that all appointments in his government are based on merit and insisted that no one can name even five individuals in his government who have been appointed to a post based on their family ties.
Raisi said if anyone knew of five cases, they should name the individuals, and he would launch an investigation into the matter. Earlier, Supreme Leader Ali Khamenei had also told the government to look into the matter and eliminate possible doubts in the government's integrity.
During the past two days, first moderate website Rouydad24 named and published the pictures of two dozen officialswho are either Raisi's and his wife's relatives or are the relatives of some other top officials in the government. Later, Aftab News website also quoted social media users who had named far more than five such cases. The website, however, politely observed that Raisi may have been misinformed by his aides about nepotism in his government.
Mohsen Rezaei (2nd L), wanted for terrorism, visiting Nicaragua in January.
Among those named by Rouydad24, there are a few relatives of Raisi and his wife including Meysam Nili, a brother of Raisi's son-in-law Meqdad Nili, who has been appointed as an adviser to Culture Minister. He also has a second job as an adviser to the chairman of the Islamic Propagation Organization. Meanwhile, a cousin Raisi's wife Zeynab Kadkhoda has been appointed as the dean of the faculty of Dentistry at the University of Tehran.
Mohammad Mehdi Ahmadi, the son-in-law of Mohsen Rezaei the vice president for economic affairs was first appointed as the governor of Bank Saderat, but stepped down quickly as soon his family connection to Rezaei was disclosed on social media. However, after a few weeks, Ahmadi was appointed as the governor of Bank Shahr affiliated with the Municipality of Tehran.
Mohammad Mehdi Rahimi, a close relative of former Majles Speaker Gholam Ali Haddad Adel, who is himself a relative of Khamenei, has been appointed as the director general of public relations at Raisi's office. In another appointment, Elham Akbari, the wife of influential lawmaker Ahmad Naderi has been appointed as an adviser to Culture Minister.
In similar developments, Sajjad Safar Harandi the son of Expediency Council member Mohammad Hossein Saffar Harandi has been appointed as the new manager of the Islamic Art and Culture Center, Hossein Amerian, the son of another influential hardliner Lawmaker Ms. Laleh Eftekhari has been appointed as the chairman of the pension fund of Iran's Steel Industries, and Davoud Azizi, a brother of lawmaker Mohammad Azizi who has studied nursing, has been appointed as the chairman of the Islamic Republic's Tennis Federation.
On the other hand, Health Minister Bahram Einollahi has appointed his son-in-law Shahed Fadaifar as his adviser at the ministry, and Mohammad Mohammadian, an official at Khamenei's office has helped his son-in-law Mehdi Eslampanah to rise to the position of the chairman of National Standards Organization.
Several others have also been named by the two websites. However, Aftab News claimed that Raisi should not have strictly denied the possibility of nepotism. He should have known that even one example of nepotism can tarnish his integrity. Raisi was so certain about his claim that he called those who talk about nepotism in his government as "accomplices of the enemy."
The Iranian Labor News Agency (ILNA) quoted Wahab Azizi, a conservative activist and leader of Jahadgaran Party which supported Raisi in the presidential election as saying that that Raisi and his aides are distributing power through these appointments in a way as if "they have conquered a foreign country."