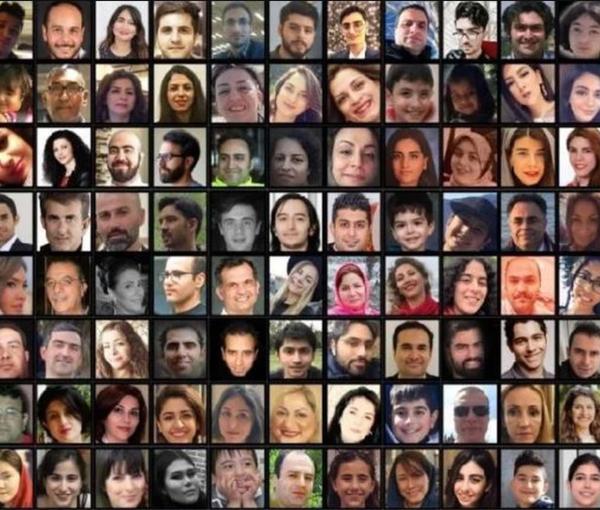 Iran Rejects International Demands Over Downing Of Airliner
Iran has condemned four countries who announced Thursday they would take action against Tehran over compensation for the downing of a Ukrainian plane in 2020.
Iran's foreign ministry issued a statement Friday accusing Canada, Sweden, the United Kingdom and Ukraine of "mis-using this incident," saying it will only negotiate with each country separately.
The four countries with the greatest number of victims on the Ukrainian International Airlines flight shot down over Tehran have formed the International Coordination and Response Group to support families of victims of flight PS752.
On Thursday, the four countries in a joint statement said they had abandoned efforts to talk to Iran about reparations and would try to settle the matter according to international law.
"Despite our best efforts over the past two years and multiple attempts to resolve this matter through negotiations, the Coordination Group has determined that further attempts to negotiate with Iran ... are futile," the statement said.
Flight PS752 was shot down by two air-defense missiles fired by Iran's Revolutionary Guard (IRGC) in the morning of January 8, 2020, as it took off from Tehran's Imam Khomeini International Airport. All 176 people on board were killed.
Just hours earlier Iran had fired ballistic missiles at bases in Iraq hosting US troops and was expecting a retaliation, but it failed to close the civilian airspace. After the tragic incident, the government tried to hide the true cause for three days, but after amateur video footage emerged showing the plane exploding it admitted that the military was responsible but said that a "human error" had taken place,
Tehran never allowed an independent investigation or provide full answers to questions by other countries, such as Ukraine. Eventually it put ten lower-ranking military personnel on trial, while victims' families demanded investigation of senior government officials in charge.
In the Friday statement Iran's foreign ministry emphasized on sovereignty of states over air disaster incidents on their territory, more of an argument Tehran has used not to provide answers, such as who in the command chain issued orders that day. It has also argued that a "radar misalignment" caused the incident but that begs the question of why two missiles were fired 30 seconds apart.
The statement also said that Iran is ready to pay reparations to the families of thirty foreign nationals. The amount Iran has decided to pay is $150,000 per victim. Mentioning 30 victims means that Iran does not want to recognize those who were dual national residents of Canada or Sweden as automatically eligible for the $150,000 compensation.
Iran's government announced in December 2020 that all victims would receive the $150,000 compensation, but a year later, it said that it has paid just a few families.
In countries with independent courts families of victims can pursue legal avenues to receive compensation or demand accountability in such an incident, but in Iran courts and prosecutors are all part of the Judiciary controlled by the Supreme Leader Ali Khamenei.
A Canadian court just recently awarded C$107 million ($84 million) to the families of six people who had sued Iran. More court cases are pending in Canada.
In May 2021, an association representing the families of victims announced on social media that some families have received an electronic message from the military prosecutor handling the case informing them that high-ranking officials cannot be prosecuted.