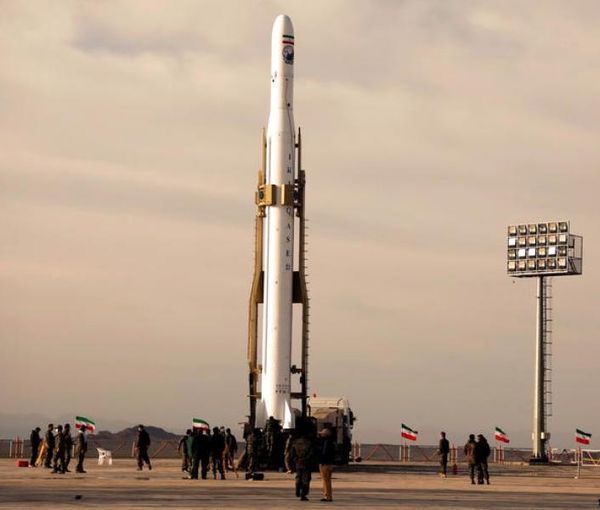 Iran Boosts Space Program Budget As Nuke Talks Go On
Iran's hardline President Ebrahim Raisi has allocated 12 times more money to the country's space program in his new budget amid nuclear talks with world powers.
The budget bill for the next Iranian year, which starts on March 21, includes eight trillion rials for the Revolutionary Guard's Aerospace Command, as well as additional budgets to other organizations that contribute to the program.
The 8-trillion rial funding is a modest $35 million if calculated at current business exchange rates, but it is a large sum when most of it is spent in Iran, where salaries and equipment is much cheaper.
This is in contrast to last year's budget in which Rouhani had allocated only 390 billion rials to the Space Organization affiliated with the Ministry of Communication and 280 million rials to the ministry itself to spend on expanding infrastructure. This clearly shows the two government's approaches to boosting the space program.
So far there is no news of the imminent satellite launch foreign media and space monitoring agencies have been talking about during recent days. However, members of the Higher Council for Aerospace Activities have met recently after 11 years, and activities monitored around Iran's launching pads in Semnan area in central Iran indicate that a launch will probably take place.
President Raisi has said that the meeting is indicative of the high priority his government attaches to the space program. Others attending the meeting included General Amir Hajizadeh the commander of the IRGC's Aerospace Force and Foreign Minister Hossein Amirabdollahian.
During the past decade Iran has launched several satellites into space but their journeys in the outer space did not last long. In 2003, one of the Iranian satellites even carried an ape but no one believed the animal Iran showed as the one returning to earth was the same monkey.
Observers outside Iran have charged that Iran's space program is a cover to justify its testing of ballistic missiles. Israel and the United States have said that Iran's space program is against a UN decision saying Iranian missiles should not have nuclear weapons capability.
The activities monitored in the central Iranian desert are similar to preparations made ahead of missile and satellite launches coinciding with nuclear negotiations. There were criticisms in the past that such moves were meant to sabotage any rapprochement between Iran and the West.
After the 2015 nuclear deal, the IRGC launched missiles with Hebrew slogans written on them calling for wiping Israel off the map. The difference this time is that those who are negotiating and those who launch the missiles are not each other's political rivals. They both come from the heart of Iran's hardliner conservative camp.
While monitoring agencies and foreign entities are closely following the moves on the ground, Iran has not been concealing its ambitions in space. Raisi visited a space technology exhibition in Tehran on November 26 and asked officials to work on reaching the 36,000 km orbit around the earth in four years.
The likely blast off at Iran's Imam Khomeini Spaceport comes as Iranian state media has offered a list of upcoming planned satellite launches in the works for the Islamic Republic's civilian space program, which has been beset by a series of failed launches.
While missile and satellite launches in the previous years might had been aimed at disrupting negotiations over Iran's nuclear program, this time it appears that Iranian officials are mainly about to show off Tehran's technological progress and highlight the country's ballistic missile capabilities possibly to scare regional players.