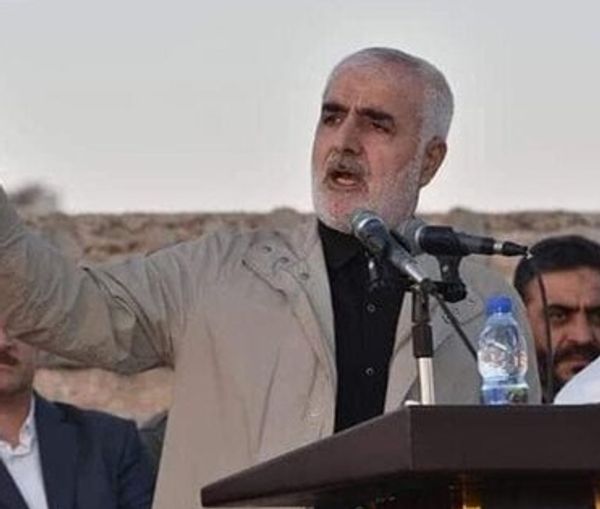 Why Top Iran Commander In Syria Was Forced To Return
State-controlled media in Iran have tried to explain why IRGC General Seyyed Javad Ghaffari, top commander in Syria had to leave that country in early November.
Etemad Online quoted the IRGC-linked news agency Tasnim as having reported that Ghaffari was seen off in Damascus after leading those forces for six years "following some developments in Syria," but did not elaborate on those developments. However, Tasnim acknowledged that according to "foreign news sources," Ghaffari was forced by the Syrian government to leave Syria after a visit to Damascus by the Foreign Minister of the United Arab Emirates, Sheikh Abdullah bin Zayed Al Nahyan's on November 9.
While Tehran has been portraying the development as an ordinary event, The Times of Israel on November 11 quoted Saudi sources as saying that Ghaffari was expelled from Syria as he was "accused of 'major breach of Syrian sovereignty' after attacking US forces, and deploying Iranian weapons to unapproved places."
According to the Times, It was reportedly Syria that shunned Iran's Qods Force Commander Javad Ghaffari for "nearly starting a war with Israel," and "almost causing an unwanted regional war."
The report published by the Times of Israel said that acting "contrary to instructions," Ghafari led "a number of activities against the United States and Israel that almost led to the entry of Syria into an unwanted regional war, including the attack on American targets in Syria on October 20 by Iranian-backed militias." The report said the move against Ghafari was taken by high-ranking officials in the Assad regime, after "months of disputes."
Meanwhile, the Jerusalem Post reported that Syrian President Bashar al-Assad was behind the ousting of the top commander of the Iranian forces in Syria. The Post named Al-Arabiya news agency as its source for the report. The Jerusalem Post added that sources at the Syrian Presidential Palace had said that the palace deemed Ghaffari's behavior as a "violation of Syrian sovereignty."
Ghaffari was the third commander of the Iranian forces in Syria since 2011 when Iran began to intervene in Syria's civil war. He started his career in Syria as one of the commanders at the Iranian forces' headquarters in Damascus and later became the commander of the forces in Aleppo where he recently led Iranian forces as well as their Lebanese Hezbollah and Afghan mercenaries, the Fatemiyoun, Etemad Online reported in Tehran.
In an apparent attempt to undermine the news about Ghaffari's expulsion, political commentator Massoud Assadollahi claimed in an interview with Etemad Online that Iran's presence in Syria has been more political than military in recent months. He also claimed that Ghaffari's mission to Syria had ended in 2020 but the killing of Qods Force Commander Qasem Soleimani delayed his return to Iran.
Meanwhile, Assadollahi characterized Ghaffari as a military adviser. This comes while during his mission to Aleppo, Ghaffari was nicknamed "the butcher of Aleppo," a title utterly far from being advisory. The commentator claimed that Ghaffari's role in Syria was one of "solving the Syrian people's problems," and that he was "a popular figure" in Aleppo.
Assadollahi further denied that Ghaffari was expelled from Syria, adding that according to diplomatic protocols he would have been given 48 hours to leave Syria if he was expelled, but he stayed in Syria for a month after the end of his mission. Some reports said that Ghaffari had his own private business in Syria.
According to the Jerusalem Post, the Saudi news channel Al-Hadath reported that the Syrians blamed the Iranians for taking advantage of Syria's natural and economic resources for their own gain and for evading tax payments to the Syrian regime.
Furthermore, Al-Hadath also revealed that Ghaffari admitted that he had stationed Iranian forces in places that were not approved by Syria.