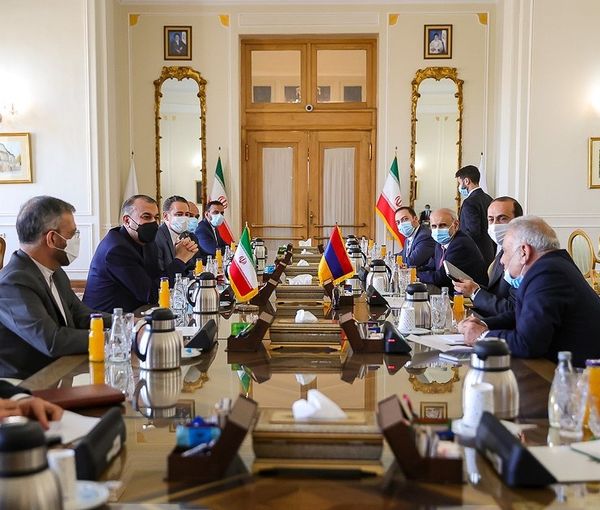 Armenian Foreign Minister Visits Tehran Amid Army Drills Along Azeri Border
Amid fresh Azerbaijani assertiveness after the 2020 Nagorno-Karabakh war, the Armenian foreign minister, landed in Tehran Monday to confer on regional tensions.
At a joint news conference with Iranian foreign minister Hossein Amir-Abdollahian, Ararat Mirzoyan stressed Yerevan's commitment to the Minsk process − chaired by France, Russia and the United States, and involving Iran − to deal with issues left unresolved by the war.
Mirzoyan said he had briefed Amir-Abdollahian on current developments, including efforts to build new transit roads to connect Iran and Armenia, as well as on the role of foreign "mercenaries" in the Karabakh war. Turkish, which reportedly sent in Sunni militiamen from Syria during the war, begins Tuesday army exercises along the border.
Amir-Abdollahian, who noted this was his third meeting with his Armenian counterpart in as many weeks, said that the "region and our northern neighbors" were "in dire condition, particularly due to the presence of Zionists and terrorists..."
Relations between Iran and Azerbaijan have been in flux since last year's Armenia-Azerbaijan war over the disputed enclave of Nagorno-Karabakh. But the atmosphere soured last month when Azerbaijan arrested two Iranian truck drivers for entering Azerbaijan from Armenia through the Goris-Kapan road "without a permit."
The road, connecting the towns of Goris and Kapan in the Armenian region of Syunik, runs through territory that Baku regained control over with the Russian-brokered deal ending the six-week Armenia-Azerbaijan war. Azerbaijan has been stopping Iranian truck drivers using the road both to reach Armenia and markets further north, and levied a $130 tax.
The Armenian government has offered Iran an alternative route through Tatev, but Iranian news agencies say this is unsuitable for heavy trucks carrying commodities like bitumen.
Tehran is also concerned over Turkey's military and diplomatic backing for Azerbaijan. In a speech Sunday, Iran's Supreme Leader Ali Khamenei reminded Turkey that "the person who digs a well [to trap] his brothers is the first one to fall into it."
Mojtaba Zulnuri, a conservative member of the Iranian parliament's National Security and Foreign Policy Committee, said Monday that Azerbaijan and Turkey would be "slapped hard if they want to threaten Iran's interests."
Previously, Iranian officials had generally avoided mentioning Turkey's role while expressing disquiet over Israel'srelations with Azerbaijan, which have included arms supplies and reportedly access to Azeri airfields.
In response to such remarks, Leila Abdullayeva, spokesperson for the Azeri foreign ministry, Monday denied "the presence of third-country forces near the Azerbaijan-Iran border" or any "provocation" by such forces.
Lurking in the background for Tehran is a fear of wider changes that might result from unresolved issues between Armenian and Azerbaijan. Tehran has been carrying out its own large-scale military exercises and has repeatedly warned it will not tolerate any geopolitical changes.
Armenian prime minister Nikol Pashinian Sunday criticized sections of the Iranian press for alleging Yerevan planned changes detrimental to Iran. "Armenia has never been and will never be involved in any conspiracy against Iran, because we extremely value those relations and we will never forget that Iran was the path of life for Armenia in the early 90s," he said.
But the Azeris have put forward their own demand for a 'land corridor', in this case through Armenia to link Azerbaijan's western regions with Nakhchivan. Armenian Security Council Secretary Armen Grigoryan said October 2 that while Yerevan might open its roads to Azerbaijan and Turkey, it would retain control with no "sovereign corridor" inside Armenian territory. Grigoryan said existing infrastructure, including the Yerevan-Tbilisi-Baku-Russia railway, could facilitate such trade.