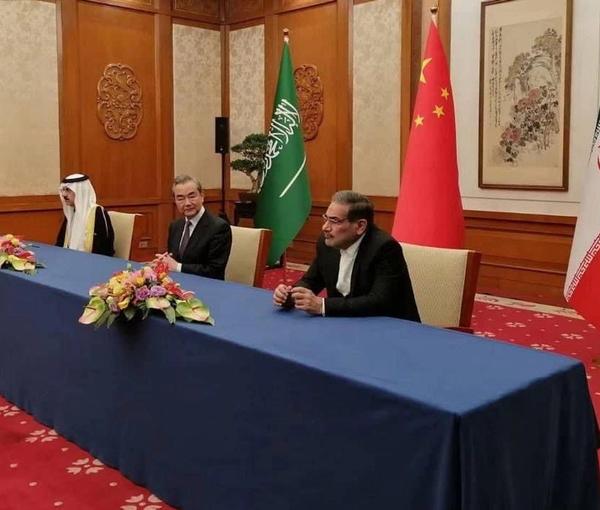 Iran Gained Little From Deal With Saudi, Ex-Diplomat Says
A former Iranian diplomat says Tehran has gained little from a Chinese-brokered deal to restore ties with Saudi Arabia and made concessions that "Trump wanted."
Abolqassem Delfi, former senior foreign ministry official and ambassador to France, in an interview with Didban website in Tehran argued that Iran made "big concessions" to Saudi Arabia but gained little in return.
"What we have achieved by the Beijing agreement can be debated and there are differences of opinion in the country. Some believe that Iran has not benefited equally from the deal as much as China and Saudi Arabia have achieved," Delfi said.
"We have given assurances that the region will remain calm, and we should contribute to regional security. This was one of Trump's demands…for which he withdrew from the JCPOA," the former diplomat maintained.
Delfi was referring to an apparent Iranian pledge to change its regional policies on Yemen and Syria.
For Riyadh, relative peace in Yemen would be a relief from constant concerns about cross-border attacks by Iranian-backed Houthis and the cost of a grinding war, allowing it to focus on its grand development projects, Delfi maintained.
Regarding Syria, the Saudis wanted to bring Bashar al-Assad back into the regional Arab orbit, dominated by Riyadh, and they made gains by having the Syrian dictator attend the Arab League summit in Jeddah last week.
Abolqassem Delfi, former senior foreign ministry official and ambassador to France
In essence, by promising to tone down its regional policies, the Islamic Republic did what former US President Donald Trump wanted from Tehran in 2018 when he withdrew from the JCPOA nuclear agreement, putting forth 12 conditions, Delfi argued.
Just days after Trump announced the US withdrawal from the JCPOA, former Secretary of State Mike Pompeo put forth 12 demands as preconditions for normalizing ties with the Islamic Republic.
Besides demanding a tougher nuclear deal and an end to its missile program, Pompeo asked Tehran to cease weapons supplies and support to its regional proxies. He also demanded that Tehran should respect the sovereignty of the Iraqi government, end its support for Yemen's Houthis and withdraw all forces under its command from Syria.
Delfi argued that these were "big concessions" that Iran could have made in different and better circumstances in exchange for an end to most US sanctions.
When the agreement to restore relations with Riyadh was announced on March 10, Iranian officials and government media began to hint at possible economic benefits from the deal. However, so far there has been scant evidence about Saudi Arabia extending a lifeline to Iran, which has been experiencing an economic crisis since the reimposition of US sanction in 2018.
In mid-March, after the Beijing agreement, Delfi had expressed more optimistic views on the impact of restoring ties with Saudi Arabia, arguing that it could be a signal that Tehran was ready to "return to rationality" in its foreign relations.
Delfi also hinted that the replacement of Ali Shamkhani as secretary of Iran's supreme national security council early this week might impact nuclear talks with the West, although it is too early to pass definitive judgement.