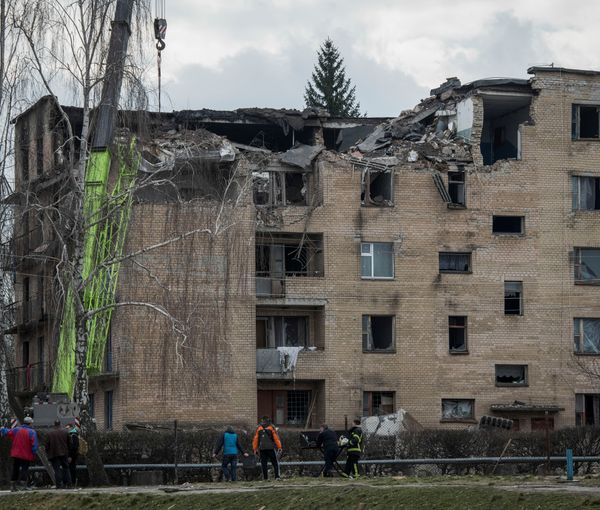 Ukraine Shoots Down 36 Iranian Drones In Fresh Russian Attack
Ukraine said Thursday it had shot down all 36 Iranian-made drones launched by Russia in overnight attacks probably targeting critical infrastructure and military facilities.
President Volodymyr Zelenskyy said it had been an "uneasy night" but commended the work of air defenses.
"Continuing to terrorize Ukraine, the enemy used 36 Shahed (drones). None of them reached their target. Thanks to our air defense forces for the 100% result," he wrote on the Telegram messaging app.
Zelenskyy urged Iran on Wednesday to reconsider the supply of the killer drones to Russia in order to stop their slide into "the dark side of history."
Since last October, Moscow, which launched its full-scale invasion in February last year, has regularly sent waves of drones to attack targets in Ukraine. Although they are slow, drones are cheaper and more expendable than advanced missiles.
Some experts say that Russia's use of the Shahed drones, costing around $20,000 each, either is meant to confuse Ukrainian air defenses during missile attacks, or to force Kyiv to spend its expensive Western-supplies anti air missiles.
"The enemy likely aimed to attack critical infrastructure and military facilities in the western regions of the state," the Ukrainian air force said on Telegram.
It said Iran-made Shahed 136 and Shahed 131 drones had been used.
The head of Kyiv's military administration said the capital had come under attack by several waves of drones but that all had been shot down. He said it was the 12th attack on Kyiv this month.
Regional and military authorities in southern and western Ukraine reported shooting down drones.
Western powers have strongly objected to Iran's decision to arm Russia with the Kamikaze drones, and possibly other weapons and ammunition.
With reporting by Reuters