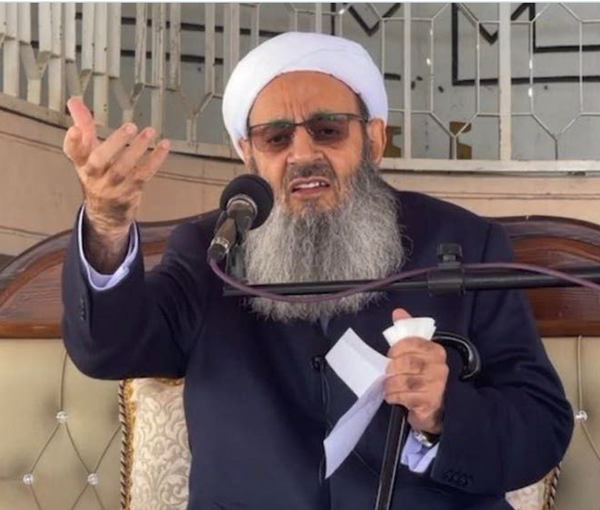 Outrage Of Iran Sunni Leader Over Prisoner' Executions
The execution by hanging of three political prisoners in Iran on Friday morning has been condemned by a leading Sunni cleric.
Mowlavi Abdolhamid Abdolhamid said Majid Kazemi, Saeed Yaghoubi and Saleh Mirhashemi had been sentenced to death after "forced confessions.".
Condemning the Shia theocracy in the harshest terms for the killings, he said: "These executions do not exist in Islam, and the world should not view them as results of the religion."
Speaking in his Friday prayer sermon shortly after the men were hanged, Iran's most senior Sunni cleric said that torturing the accused to obtain confessions has become a "common thing" in the Islamic Republic.
The three prisoners were convicted over the death of two IRGC's Basij militia members and a police officer in protests of November last year, in what Persian media have dubbed the 'Esfahan (Isfahan) House' case. Human rights campaigners say the prisoners were tortured into confessions, and there is no reliable evidence against them.
Abdolhamid said: "On the one hand, the judicial officials said that they confessed to murder, and on the other hand, they sent a message from inside the prison saying that the confessions were made under duress.
"All the people of Iran and the world had called for stopping the executions. Now the public trust has been damaged, and people have lost their trust in the confessions."
In a defiant message to the authorities, he said: "Be sure that the nation cannot be stopped by executions."
Recent nationwide protests posed the biggest internal challenge to the Islamic Republic since its establishment in 1979. So far, around 500 civilians have been killed by security forces and at least 20,000 arrested. While many have been released, around 1,500 face criminal charges, and at least 80 detainees face the death sentence.