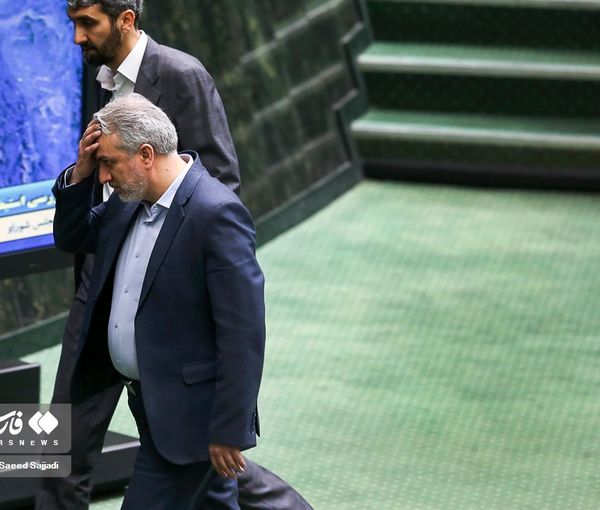 Few Believe Impeachment Of Iranian Minister Will Improve Economy
Although Iran's Industry Minister Reza Fatemi-Amin was impeached by parliament on Sunday, few believe that it can be a remedy for Iran's ailing economy.
Jalil Rahimi Jahanabadi told Rouydad24 news website: "Every one of Raisi's ministers we have dismissed has been replaced by someone even weaker." He predicted that someone several times lower in rank than Fatemi-Amin will become the next minister of industry.
Jahanabadi reiterated that it is highly unlikely the next minister would be more experienced, having better plans or being more capable than his predecessor in any other way. He also argued that Fatemi-Amin was a victim of the government's unclear policies. 
Without naming Supreme Leader Ali Khamenei, who usually makes all key decisions without being accountable for them, Jahanabadi charged that those policies are often made by those whose positions are beyond the government's control.
Industry Minister Reza Fatemi-Amin defending himself at the parliament on April 30, 2023
He said: "A thousand presidents like Raisi and a thousand ministers such as Fatemi-Amin will become the victim of those policies as long as the country's strategic policies are not determined."
Jahanabadi said even more pessimistically that a new minister will take office, change all of the ministry's deputies and major managers and before he can control the affairs of the ministry, he will have to be impeached for similar reasons. 
Lawmaker for Tabriz, Ahmad Alirezabeigi who had initially charged the former minister with giving 75 SUVs to parliamentarians to avert a previous impeachment motion, said after Fatemi-Amin's dismissal that he has given 147 cars to the lawmakers. Alirezabeigi told Didban Iran website that he has presented evidence supporting his claim to the Public Prosecutor's Office. 
He said a document signed by the executive deputy to the speaker of the parliament indicates that he had designated at least 57 lawmakers to receive the cars at a discounted price several times lower than market value. He said the profit for the lawmakers was huge due to the vast difference between the price set by the importing company and the sale price in the market.
Ironically, although Fatemi Amin has been impeached and replaced from his post partly because of the deal about the cars, none of those who have received the cars have been reportedly questioned, indicted or even publicly named. 
Former President Mahmoud Ahmadinejad
On Saturday, one day before the impeachment, Alirezabeigi said in a statement published on former President Mahmoud Ahmadinejad's Telegram channel that he had been summoned for questioning by both the Prosecutor's Office and the Board Supervising Lawmakers' Behavior. The channel presented long lists of the lawmakers who had received the car but blackened their names to avoid prosecution for possible libel.
In the meantime, while the controversy over impeachment continues, former government spokesman Ali Rabiei noted in a commentary in Etemad Online website that the campaign against financial corruption should be accompanied by structural reforms before being turned into security and judiciary projects. 
Rabiei accused Iranian governments of failing to carry social projects forward. Interestingly, Rabiei himself has been a member of the government in most of the 43 years the Islamic Republic has been in power.