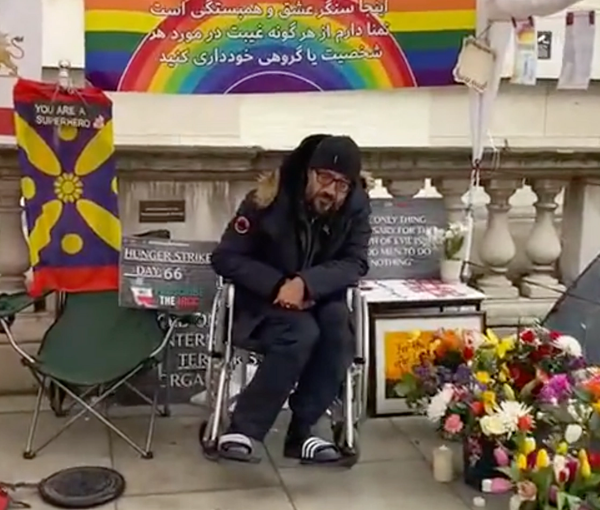 Iranians Rally Across World Calling for Proscription Of IRGC
Thousands of Iranians rallied in support of hunger striker Vahid Beheshti across the world and urged the proscription of the IRGC by Britain and other European countries.
On Saturday, Iranians living in Vancouver, Canada, in solidarity with Vahid Beheshti and workers' strikes in Iran, called for increased international pressure against the Islamic Republic. Activists living in Montreal also held demonstrations in solidarity with Vahid Beheshti.
Similar events were held in Berlin, Frankfort, Bonn, Kassel in Germany and also Vienna, Gothenburg and Milan.
In France, Iranians held a protest in Paris and emphasized the need to designate the IRGC as a terrorist arm of the Islamic Republic.
Thousands of others marched in London to 10 Dawning Street to ask the UK to proscribe Iran's Revolutionary Guards (IRGC) as a terrorist organization.
The protest rally was attended by activist Vahid Beheshti who has been on a hunger strike in London since February 23 outside the UK Foreign Office to raise awareness for the need to designate the IRGC.
He said he will not back down "even a millimeter from my position" as he risked his well-being for the sake of freedom of speech and human rights.
He said the voice of the huge crowd of Iranians in front of the British Prime Minister's office in London made the UK authorities realize the need to proscribe the IRGC as a terrorist organization.
Several other Iranians have joined Beheshti's protest action in the past weeks and set up their tents for a sit-in in front of the Foreign Office building.