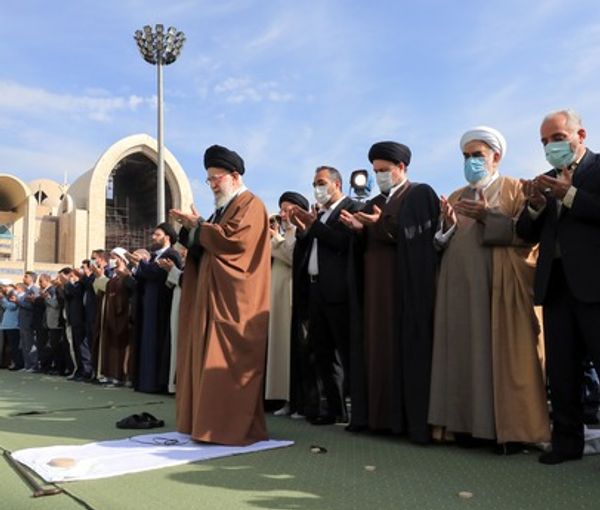 Khamenei Calls For Regime Unity Amid Multiple Challenges
Ali Khamenei, Iran's 83-year-old ruler, has called on the three branches of the government to cooperate, signaling differences among his hardline loyalists.
In his speech on the Muslim holiday of Eid al-Fitr Saturday, Khamenei urged the Judiciary, Executive and Legislative branches "not to obstruct one another" and not to waste time by focusing on "marginal controversies."
Khamenei, whose regime faces serious economic and political crises, tried to sound hopeful by saying that a strong will can help overcome hurdles.
"By reinforcing our will, we can overcome the problems facing the country and if the three branches cooperate, we will not encounter difficulties," he told officials and regime insiders who were all present in the ceremony.
As problems have become more serious for the regime, it is becoming increasingly more difficult for the governing hardliners to evade responsibility, especially for members of parliament who have little to show after three years into their term. Elections are approaching next March, and lawmakers have to answer to the people for the current economic disaster.
The national currency has halved in value since August and inflation seems uncontrollable, hovering well-above 50 percent.
As a result, some hardliners have begun criticizing President Ebrahim Raisi and threatening to impeach his ministers.
Khamenei's call for unity and cooperation should be seen in this light and as an attempt to close ranks in the face of months of popular protests and seemingly unsurmountable problems.
The aging autocrat, ruling Iran since 1989, also asked the people not pay attention to "marginal controversies," warning them that "enemies" want to divide the nation.
The word 'enemy' is a permanent fixture in Khamenei's speeches, referring to the United States and Israel, an in some instances to European powers. It was no different in the Saturday speech when he used the term 12 times.
Having seen nationwide anti-regime protests for weeks from September to December 2022, Khamenei wants people to ignore criticism directed at the Islamic Republic and show "unity", which for him means loyalty to the regime.
Khamenei, his top officials and the vast media propaganda machine try to portray dissent in the country as a ploy by the "enemy." He repeated this conspiracy theory in his speech.
"The enemy is opposed to the unity of the Iranian nation…The enemy wants the people to fight each other for their different opinions and preferences," he said calling on the people to show love and tolerance toward each other.
However, security forces under Khamenei's command have killed more than 500 protesters since September simply for trying to express their opinions.
Khamenei also argued that "Islam's enemies have realized that military force is not effective" and now they use other methods to dominate.
"Terror, distortion, lies, enticements…sowing pessimism among nations…are their tactics today," Iran's Supreme Leader said.
In a separate meeting with ambassadors from Muslim countries on the Eid occasion, Khamenei raised another favorite topic of his, by praising "the Palestinian resistance" and claiming that recent events have proven that Israel has "lost the power of deterrence."
Serious military clashed took place earlier this month between Israel and militant forces backed by Tehran. Iranian officials have boasted of having supported these forces to create instability for Israel.
In the his address in the meeting Khamenei reiterated, "This important achievement is due the resistance of Palestinian youth, and the strategy of the Muslim world should be to help and reinforce combatants in Palestine."