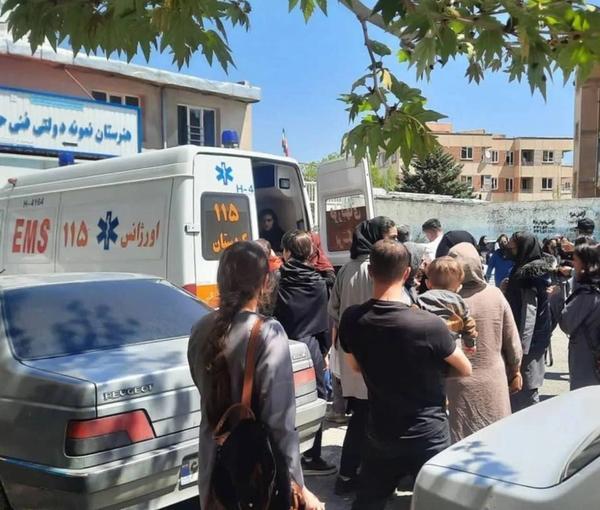 Amnesty Int. Calls For Independent Probe Into School Chemical Attacks In Iran
Amnesty International has called for an "independent, thorough and effective" investigation into the poisoning of schoolgirls across Iran.
In a letter to Iran's Prosecutor General Mohammad Javad Montazeri on Tuesday, the human rights group said the authorities must ensure girls have equal and safe access to education and are protected from any form of violence.
Amnesty warned that the rights to education, health and life of millions of schoolgirls are at risk amid ongoing chemical gas attacks deliberately targeting girls' schools in Iran.
According to the letter, more than 100 schools have been targeted since November, some more than once.
Amnesty says the poisonings appear to be a coordinated campaign to punish schoolgirls for their peaceful participation in nationwide protests that erupted in mid-September 2022, including through acts of resistance such as removing their mandatory hijabs and showing their hair in public while in school uniform.
Amnesty wrote: "An independent international delegation to investigate the attacks, including UN Special Rapporteur on the situation of human rights in Iran, UN Special Rapporteur on the right to education, UN Special Rapporteur on violence against women and girls, UN Special Rapporteur on the right to health, and Committee on the Rights of the Child, must also be granted access to the country."
The letter adds: "Many people in Iran suspect actors tied to the state or pro-government vigilantes, who have been empowered by Iran's discriminatory and degrading laws and policies that perpetuate violence against women and girls, of being involved in the attacks, especially given the authorities' failure to take meaningful action and their attempts to silence public criticism.
"The attacks were first reported in Qom province and have since spread to other provinces and become more frequent with multiple schools attacked daily. These attacks have left schoolgirls hospitalized with symptoms including coughing, difficulty in breathing, nose and throat irritation, heart palpitation, headache, nausea, vomiting and numbness in limbs."
Amnesty also noted that the authorities have tried to silence public calls for accountability by subjecting distressed parents, schoolgirls, teachers, journalists and others to violence, intimidation and arrest for peacefully protesting or reporting on the authorities' failure to stop the poisonings.
Meanwhile, the deposed Sunni Imam of Azadshahr Mowlavi Hossein Gorgij on Monday wished for the death of those who poison children.
He said the world earlier witnessed such chemical attacks on children in Syria.
Chemical attacks on girl's schools in Iran continued on Tuesday with students in at least 26 elementary and high schools poisoned according to reports.
A large number of students were taken to hospital in the cities of Kermanshah, Urmia, Eslamshahr, Tehran, Karaj, Ardebil, Saqqez and Ahvaz.
Videos published on social media show families gathered in front of the schools to vent anger at the regime's indifference to the attacks.
The serial poisoning of students has been ongoing for over four months. The perpetrators have not been identified, while the attacks have spread to more and more cities.
Amid an international outcry over the attacks, the UN Human Rights Council in Geneva has called for a transparent investigation, while the White House has demanded that those responsible are held accountable.