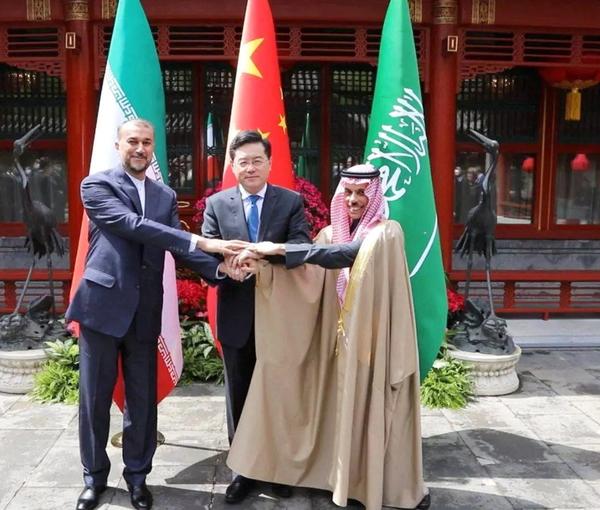 Iranian Officials, Propagandists Say Saudi Deal Shows US Decline
Iran's foreign ministry spokesman Nasser Kanaani says a decision by the United States to send a submarine to the region is an attempt to cover up American decline.
The US Navy Saturday announced the deployment of a guided-missile submarine capable of carrying up to 154 Tomahawk missiles to the Middle East, in what appeared to be a show of force toward Iran following recent tensions in Syria and rocket attacks on Israel.
Nasser Kanaani tweeted Sunday that "periodic news about sending submarines, rotating warships or dispatching bombers to West Asia when new regional developments help shape a new order, and eliminate the need for extra-regional military forces, is part of the American government's struggle to cover up the trend of its declining global power."
Kanaani was referring to Iran's restoration of diplomatic relations with Saudi Arabia and an apparent deal to search for peace in Yemen when he mentioned "new regional developments" and a "new order".
Iranian regime officials and its ideological gurus have been making the most of the agreement being a US strategic defeat because Riyadh agreed to the deal with China's tutelage, excluding Washington.
But the Saudis appear to be carefully implementing their diplomatic and security goals in restoring relations with Tehran, as it relates to pacifying Yemen. At the same time when Riyadh sent a team to Iran over the weekend to assess the technical aspects of reopening its diplomatic missions, a Saudi and Omani delegation traveled to Yemen to negotiate peace with the Houthis. After the Saudi-Iranian deal, the Yemeni rebel movement has completely changed its tone, praising regional reconciliation and speaking of an "honorable peace."
But Iranian hardliners are praising Supreme Leader Ali Khamenei's "wisdom" in predicting a decline of the American world order, citing the Chinese-sponsored agreement with Saudi Arabia.
The ultra-hardliner Kayhan newspaper in Tehran financed by Khamenei wrote Monday that "Iran has a special and undeniable role in the new world order" citing Israeli Prime Minister Benjamin Netanyahu who according to Kayhan told the US Congress in 2011 to be wary of Iran's power.
Kayhan of course somewhat misquoted Netanyahu who in fact, was not talking about a new world order but warning about Iran's nuclear program. The Israeli PM told Congress: "When I last stood here, I spoke of the consequences of Iran developing nuclear weapons. Now time is running out. The hinge of history may soon turn, for the greatest danger of all could soon be upon us."
Kayhan retorted that since Netanyahu's speech "Iran's enemies headed by the United States have repeatedly tried to prevent the formation of a new world order," and engineered several attempts to topple the Islamic Republic.
Kayhan insisted that the "resistance front" is winning in West Asia, referring to Iran's proxies in the region. It even went as far as claiming that the war in Ukraine is a defeat for the West.
The hardliner newspaper also pointed out French President Emmanuel Macron for urging Europe to be independent of the United States on the Taiwan issue, after his recent trip to China.
All these signs, Kayhan argued show the ascendance of a new world order despite the will of the United States, United Kingdom, France Germany and "the Zionist regime", failing to acknowledge the fact that Iran has single-handedly been the region's most destabilizing influence in recent history, drawing multiple nations and continents into potential conflict.