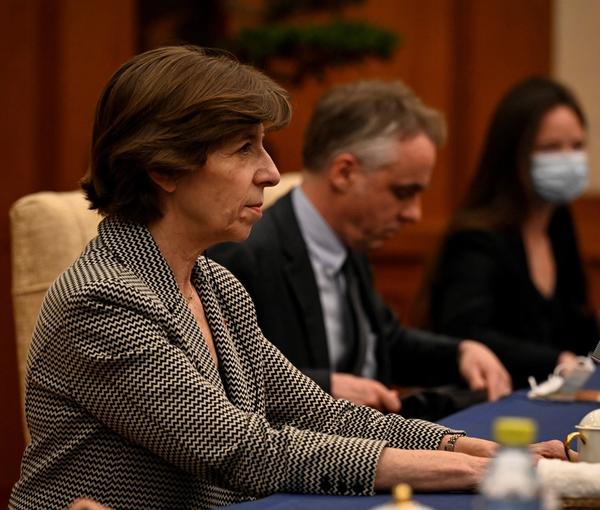 French And Iranian Top Diplomats Hold Rare Meeting In Beijing
French and Iranian foreign ministers held a face-to-face meeting in Beijing Friday, with varying accounts emerging from the discussion.
While France's Catherine Colonna brought up the issue of French citizens "arbitrarily detained" in Iran, her Iranian counterpart Hossein Amir-Abdollahian urged France "to respect and uphold the rights of French citizens who protest."
The meeting lasted two hours and was "useful" according to a tweet by Amir-Abdollahian. He said that bilateral relations, Iran's "recent agreement with Saudi Arabia to restore relations, Ukraine, regional issues, including Palestine and Lebanon, lifting of sanction [on Iran] and our country's peaceful nuclear program" were discussed.
The meeting was the second high-level meeting held between the Iranian foreign minister and a senior European official since talks to revive the JCPOA nuclear deal reached a deadlock last September.
In December the European Union foreign policy chief Josep Borrell met with Amir-Abdollahian in Jordan.
Amir-Abdollohian was in Beijing leading separate reconciliation talks between Iran and Saudi Arabia following a Chinese brokered deal in March.
A French statement said that Colonna "renewed her urgent demand for the immediate release of the six French citizens who Iran is arbitrarily detaining."
It is not clear to what extent the nuclear deal or Iran's military support for Russia were focal points in the meeting. Europe and the United States have strongly condemned Tehran's supply of weapons to Moscow that are being used to attack civilian targets in Ukraine.