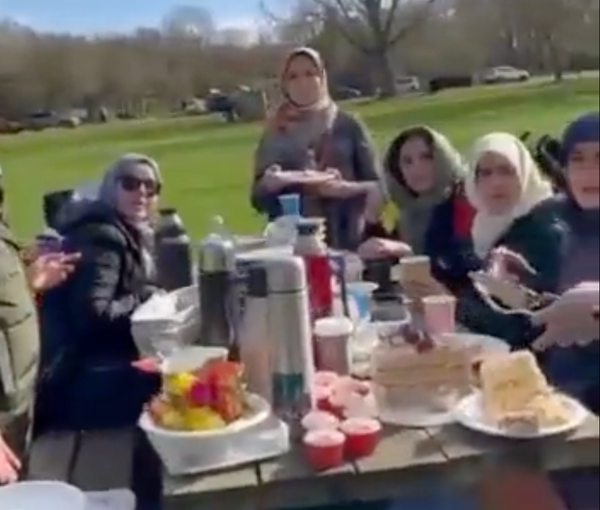 Iran London Embassy Staff Filmed Picnicking During Ramadan
While police attacked people with tear gas on the ancient Spring Picnic Day, a video emerged showing the Iranian ambassador and employees in London picnicking and eating during Ramadan.
An Iranian female expat confronted the embassy staff on Sunday admonishing them for picnicking instead of fasting.
Many Iranians on social media have condemned the move by the Iranian ambassador and his family and friends, saying, "the hypocrisy is off the scale".
"Out of respect for the month of Ramadan," authorities closed parks and blocked roads to northern forests and other locations where people traditionally picnic on this day.
However, videos posted on social media show huge crowds braving the decision by the regime through singing and dancing and even chasing away the government-sponsored vigilantes from their picnic grounds.
Some expressed kudos to the woman who bravely recorded the video and challenged the Iranian regime officials.
"Good work Sepideh for being brave enough to confront them. The hypocrisy of them being out & celebrating #SizdehBedar, a holiday & tradition they have done their ABSOLUTE best to get rid of, while the people of Iran were unable to safely celebrate with friends & family," tweeted Mahshad.
This year the fasting month of Ramadan in the Islamic lunar calendar has coincided with Nowruz and its holidays. Authorities have been urging people to report if they witness anyone violating fasting in public or hijab rules.
The religious establishment and its supporters say people should not eat in public during the fasting month "out of respect for those who fast" but many among non-fasting citizens believe this is unfair.