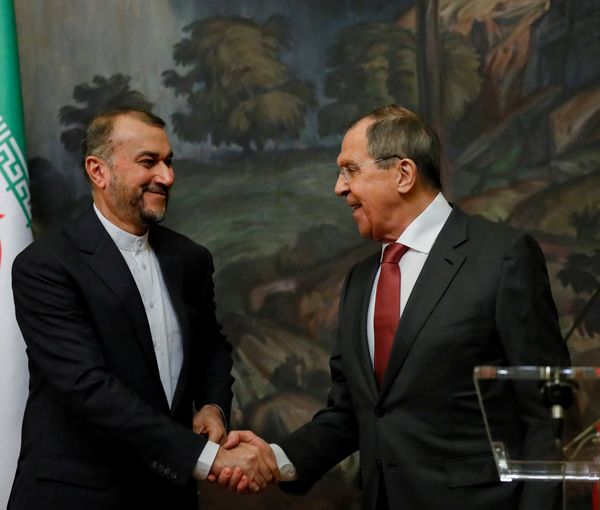 'Humiliation' Of Iranian FM By Lavrov Angers Iranians
A video from the meeting of the Iranian and Russian foreign ministers in Moscow Wednesday has led to controversy in Iran.
According to reports and the video published in Tehran media, Hossein Amir-Abdollahian was waiting in his car at the Russian foreign ministry to be formally welcomed by Foreign Minister Sergey Lavrov, but the Russian top diplomat did not emerge from the building.
When Amir-Abdollahian entered, Lavrov asked him, "Didn't you want to get off the car," and the Iranian foreign minister says, "I was waiting." Lavrov asks what he was waiting for, but the Iranian foreign minister mumbles and does not answer.
Many in Iran have reacted with anger. Cleric Rahmatollah Bigdeli said on Twitter, "This much disrespect to the authorities of a country by Russian officials is shameful!"
Some others say the disrespect by Lavrov in front of reporters was to humiliate the Iranian foreign minister, adding that Iranian regime officials are "Russophiles".
Another user compares Lavrov's move with President Vladimir Putin's welcoming of the UAE's leader Sheikh Zayed bin Sultan Al Nahyan.
In that video, Putin gives his overcoat to the Arab leader in the cold Moscow weather.
However, Iran's Foreign Ministry Spokesman claimed Thursday that Amir-Abdollahian was waiting for a few minutes inside the car for the other delegation members to join him, because it was raining in Moscow.
This is not the first time the Russians are apparently disrespecting Iranian authorities. In January 2022 during President Ebrahim Raisi's visit to Moscow neither Putin nor any senior Russian official escorted him upon his departure.