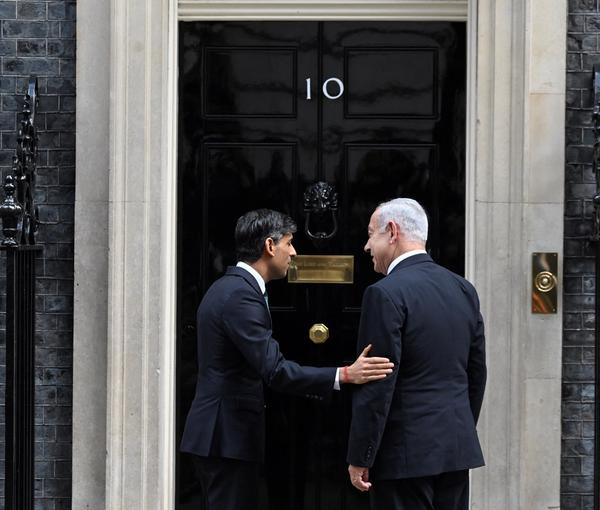 Netanyahu Told UK Israel Will Respond To Iran's 90% Uranium Enrichment
Israeli will respond if Iran enriches uranium to weapons-grade 90 percent, even without US help, Benjamin Netanyahu has told his British counterpart.
A senior Israeli official, who accompanied Netanyahu on his trip to London on Friday, informed Iran International that the Israeli prime minister told UK's Rishi Sunak that "military attacks on nuclear facilities in Iran are not the only solution for Israel, and this country is considering other solutions to stop Iran."
Since mid-2020, several acts of sabotage and explosions in Iran's nuclear facilities have been attributed to Israel.
Successive Israeli governments have firmly stated that the Jewish state will not tolerate a nuclear armed Iran and will use all options to protect its security.
This senior official added that Israel demands US military support and European sanctions to prevent Iran from moving towards 90% uranium enrichment. Iran has been enriching up to 60 percent since 2021 in violations of the 2015 nuclear accord with world powers, known as the JCPOA.
US officials have said that Iran has accumulated enough enriched uranium to be able to produce sufficient for producing enough fissile material for a nuclear weapon in two weeks.
The United States has adopted a tougher tone toward Iran since long-running nuclear talks reached a deadlock last September and public opinion was shaken by a violent and deadly crackdown of protests in Iran. Western powers have also become alarmed by Iran's delivery of suicide drones to Russia.
Israel and Britain have highly advanced intelligence ties, and their cooperation has so far prevented terrorist attacks by the Islamic Republic in Europe.
Netanyahu met with his British counterpart Rishi Sunak in London on Friday to discuss Iran's nuclear and conventional threats, among other issues.
Readouts of the Friday meeting from both sides said the two talked about the security and defense challenges they share, including the threat posed by Iran, as well as ways to strengthen the relationship between Britain and Israel.
Netanyahu also invited Sunak for an official visit to Israel, the Israeli statement said. He left Downing Street less than an hour after he arrived as hundreds of protesters gathered at the gates of No 10 to demonstrate against the Israeli prime minister's policies, especially his overhaul of the judiciary.
Downing Street said that in his meeting with Netanyahu, Sunak "stressed the importance of upholding the democratic values that underpin our relationship, including in the proposed judicial reforms in Israel."
It added that the two men also discussed the war in Ukraine and Iran's "destabilizing activity", as well as its nuclear program, and agreed that their "governments would continue to work closely together to push back against aggression and manage the risk of nuclear proliferation."
Earlier in the week, Israeli Foreign Minister Eli Cohen was in London to press Jerusalem's position about the Islamic Republic's threat and bolster bilateral economic ties.
The Israeli diplomat signed an agreement called the 2030 Roadmap for UK-Israeli Bilateral Relations, which according to the British Foreign Office "contains detailed commitments for deepening cooperation across the breadth of the Israel-UK relationship, including on trade, cyber, science and tech, research and development, security, health, etc."