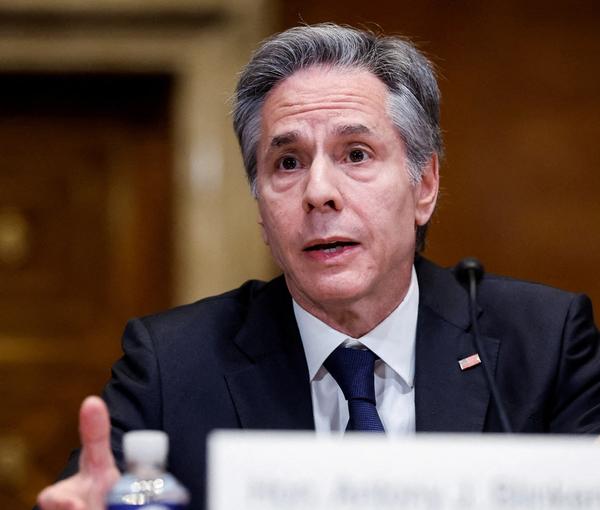 Biden Administration Showing 'Weakness On Iran': US Senator
Pressure is mounting on the Biden administration to take harsher action on Iran as senators claim Iran's oil wealth is helping fund Russia's war on Ukraine.
At a review of the 2024 State Department Budget Request on Wednesday, Republican Senator Ted Cruz called the Biden administration "weak", claiming its weakness on Iran is indirectly supporting Russia's war efforts, in addition to boosting its nuclear capacity.
In a scathing attack, Cruz told Secretary of State Antony Blinken a walking back of the previous administration's oil sanctions on Iran has led to empowering the regime's nuclear program and helped it support Russia's military capacity through drone sales.
"I'm deeply concerned, however, that no matter how much you may want to help Ukraine there is something the Biden administration wants more, which is to re-enter a nuclear agreement with Iran," he said.
"This administration has shown weakness on Iran since day one, and continues to do so. Just in the last few weeks there have been reports that you again waived congressional sanctions to allow Iraq to move money to the Central Bank of Iran, which the Ayatollah uses for terrorism, for ballistic missile development, and nuclear weapons work."
The outspoken Senator went on to discuss the oil revenues which Iran is capitalizing on in addition to claiming that Russia's use of Iranian oil tankers violates US energy sanctions.
"You've allowed that ghost fleet to grow dramatically," Cruz said, claiming the number of tankers Iran was using at the start of the administration has risen from 70 to 300.
"The administration [has] allowed Iran to restore its energy exports, getting above one million barrels a day, which is funding the regime and funding the war on Ukraine."
Last month was the highest oil exports Iran has had since 2018, not only great news for a beleaguered Iranian economy, but a boost to Russia which is now using an enormous Iranian fleet to bypass international sanctions.
Iranian oil exports started hitting new highs in the last two months of 2022 despite US sanctions, with higher shipments to China and Venezuela, countries bypassing international sanctions.
Tehran's oil exports were limited under former President Donald Trump when in 2018 he exited a 2015 nuclear accord and reimposed sanctions aimed at curbing oil exports and the associated revenue to Iran's government.
However, exports have risen during the term of his successor President Joe Biden, who had sought to revive the nuclear deal, and hit the highest since 2019 on some estimates. This comes despite headwinds such as a stall in those talks and competition from discounted Russian crude.
Sen. Bob Menendez speaking on Iran's nuclear program in the US Senate in February 2022
Energy consultant SVB International said Iran's crude exports in December averaged 1.137 million barrels per day, up 42,000 bpd from November and the highest 2022 figure SVB has reported based on estimates given earlier.
Blinken sheepishly defended the administration's position, standing by the desire to return to the nuclear deal, known as JCPOA, talks which broke down last year after Iranian intransigence.
He said the US is "actively and aggressively working to break up" the alliance between Russia and Iran, claiming there are moves underway to reimpose the oil sanctions. Though the administration has imposed sanctions across Iran's UAV network, which it is supplying to Russia for its invasion on Ukraine, a position the regime firmly denies, it is no nearer quelling the million barrels of oil Iran is selling which in turn, funds its global network of terror.
"We're working every day to enforce the existing sanctions on Iran even as we're looking at imposing new ones," said Blinken, though Cruz refuted the claims, accusing him of it being a simple political decision not to enforce the oil sanctions.
Russia's support for Iran's nuclear program was also a major point of contention, Cruz citing President Vladimir Zolensky's claims that Russia is compensating Iran for weapons through nuclear cooperation. "Under this administration, you have allowed Iran to get to the brink of a nuclear weapon," Cruz blasted, while Blinken blamed the failure of nuclear talks on Iran's pulling out.
Senator Bob Menendez (D-NJ), Chair of the Senate Foreign Relations Committee, signaled the exasperation felt among Republicans and some Democrats at the lack of action from the Democrat administration to curb Iran's growth. Rather than calling on a return to the JCPOA, the sentiment is that the moment has long passed.
"The Europeans have not joined us in multilateralizing our sanctions which at this time to Iran would have a huge consequence," Menendez said. "It's time to come to the conclusion that we want Iran to move in a different course, so others have to join us as well."
His sentiments were echoed by Senator James E. Risch, who, with Menendez, recently met with the International Atomic Energy Agency to discuss the matter of Iran.
Concurring, Risch added: "We need to encourage our European allies to join us in what we're trying to do as far as Iran is concerned."