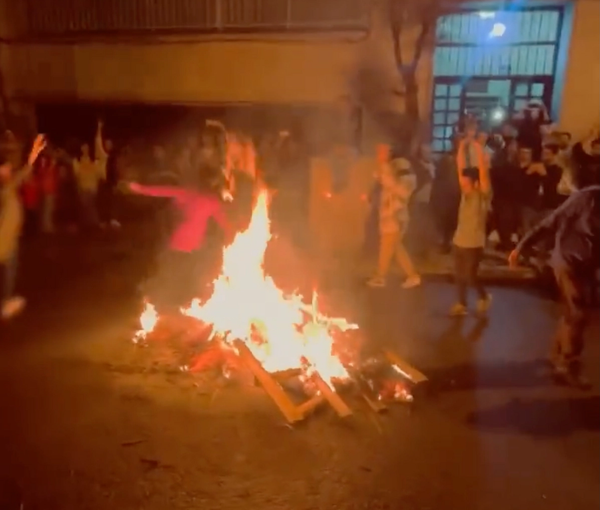 Young Iranians Turn 'Fire Festival' Into Large Protests
Thousands of young Iranians took to the streets in several cities Tuesday evening chanting slogans against the regime and Supreme Leader Ali Khamenei.
They came out to mark the ancient Iranian annual fire festival and used the occasion to vent their anger at security forces.
The action came after a call for three nights of protests beginning Monday, when smaller groups of protesters were seen marching and chanting anti-government slogans in some parts of the capital Tehran, Mashhad, Qazvin, and Malayer. But the turnout appeared to be much more impressive Tuesday evening with more cities and neighborhoods in Tehran, Rasht, Kamyaran, Divandareh, Sanandaj, Karaj, Ghaemshahr, Esfahan, Mashhad and Zahedan involved.
Videos posted on social media show crowds chanting "Death to Khamenei", "Death to the Dictator" and other anti-government slogans, throwing firecrackers and small homemade bombs (grenades) at security forces. They were also playing "Baraye" – a song that has turned into the anthem of the Mahsa protest movement – full power on speakers, and dancing around massive bonfires.
The fire festival, now called Charshanbeh Soori (Suri), has been celebrated for many centuries by Iranians, on the last Tuesday of the year in the Iranian calendar. It is the first of the festivities of the New Year (Nowruz) which falls on March 21.
Religious fundamentalists frown upon the fire festival as a 'pagan tradition' and authorities have often resorted to harsh measures to suppress its celebration in the streets, often bringing out the police, Basij militia, and vigilante groups to disperse the youth and even arrest them. Thus, the streets in larger cities such as Tehran have often turned into battlegrounds between the dancing and merrymaking youth and the police on the last Tuesday of the year.
"Charshanbeh Soori is the only time that people are also 'armed'," Jahan, a young man in Karaj, a city of 1.2 million half an hour from the capital Tehran, told Iran International referring to the homemade firecrackers the youth have been using for years to taunt the security forces during the fire festival.
Younger people want to take revenge on the regime and its security forces for suppression of the protests in the past few months, Jahan said, adding that the call to the three-night protests is like cracking the whip so that the regime understands that people have not retreated in the face of its cruelty to protesters.