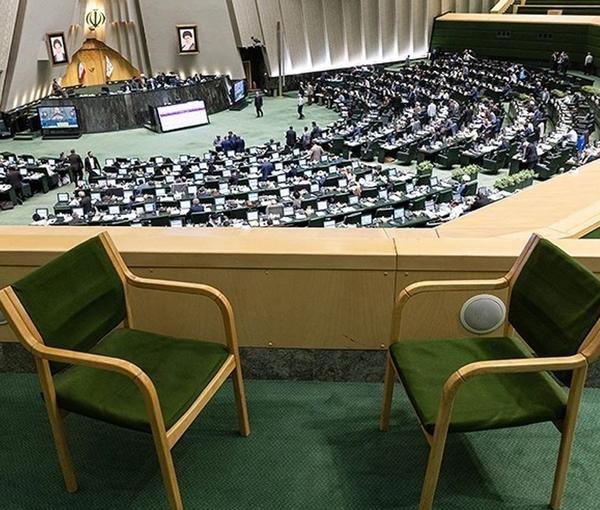 Iran's Speaker Isolated As Rival Hardliners Gear Up To Win Next Majles
Iran's parliament speaker, an old IRGC hand, fears isolation as ultraconservatives have begun forming coalitions to maximize their chances in the 2024 elections.
According to Iranian media, Mohammad Bagher Ghalibaf and his "neo-con" allies face a preponderance of hardliners who want to win power.
Ghalibaf won the speakership of the Majles (parliament) in 2020, despite the fact that his allies constituted a minority among the ultraconservative groups that control the parliament. His winning cards were his close ties to the IRGC and his kinship with Supreme Leader Ali Khamenei.
Nonetheless, those he calls "radicals" and teases as "revolutionaries" could have prevented his ascension to the Speaker's chair. They let him go forward only after he gave them concessions such as posts in and out of the parliament using his influence.
Iran's Parliament Speaker Mohammad Bagher Ghalibaf
For the next year's elections, however, some young ultraconservatives such as populist Roads and Housing Minister Mehrdad Bazrpash and radical cleric Hamid Rasaei seem to have started early campaigning that marginalizes "old" conservatives such as Ghalibaf.
According to Rouydad24 news website in Tehran, young ultraconservatives have formed the Strategic Council of the Supporters of the Islamic Revolution (Persian acronym Sharian) led by Bazrpash. A group of conservatives also formed an alliance called the "Society To Revive the Popular Institutions of the Islamic Revolution" led by Tehran Mayor Alireza Zakani. The latter's opening session was attended by heavyweight hardliners such as Gholamali Haddad Adel, a former Majles speaker whose daughter is married to Khamenei's son Mojtaba.
Former Speaker of Iran's Parliament Gholam-Ali Haddad-Adel
This group operates under the umbrella alliance called the council of Coalition of Revolutionary Forces (Persian acronym Shana).
Although both groups do not shy away from claiming that they want to monopolize political power, Sharian is better positioned as it rallied some 500 aspiring younger politicians in its general assembly, a far larger number than Shana.
Members of the older group say they are looking for unity among conservatives, an idea that failed to materialize during the past 30 years.
Young ultraconservatives, on the other hand, come from the same party that disrupted any attempt to unite conservatives during several parliamentary and presidential elections in Iran. Their party, Paydari, once close to former President Mahmoud Ahmadinejad, believes in networking at the bottom and bargaining for power at the top and that is what they have been successfully doing since 2005 when their name was Abadgaran Javan (Young developers).
Meanwhile, a report in Khabar Online featured photos and a long list of the leading members of the Sharian group mainly to show that they are much younger. The website tagged the next parliamentary election in Iran as a competition between young and old conservatives.
So far, the only reaction by Ghalibaf's neo-cons has been highlighting Bazrpash and Rasaei's bad records as well as the unpleasant track record of mayor Zakani in reports in the pro-Ghalibaf daily Sobh-e No and Farda News website which is also close to Ghalibaf. The daily characterized Rasaii as a critic of former IRGC Qods Force Commander Qasem Soleimani hoping it would alienate conservatives.
Khabar Online quoted some unnamed moderate conservatives as saying that one year ahead of the elections Ghalibaf cannot think of anything better than the position he already has
Meanwhile, according to centrist daily Ham-Mihan, Paydari and Sharian aim to knock Ghalibaf out of the Majles in the same way they ousted Haddad Adel a decade ago. Their message to Ghalibaf is that Raisi will definitely serve a second term as Iran's President and there is no chance for Ghalibaf to become Iran's next president. Their second message is that Ghalibaf himself may not be able to become the speaker again. His choices are limited and his days on the Speaker's seat are numbered.