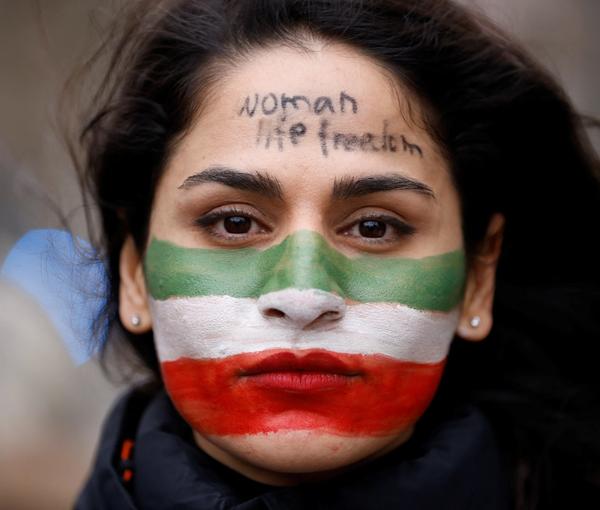 Condition Of Women In Iran 'Dire', Rights Group Says
The US-based Human Rights Activists News Agency (HRANA) has described the situation of women in Iran as "dire" on International Women's Day, March 8.
Protests and violent unrest since September, triggered by the death in custody of Mahsa Amini, arrested by the morality police for not wearing her hijab properly, have led to a shocking 66 female deaths including at least 14 female death-row inmates being executed in different prisons and two women receiving the death penalty.
With women having been at the forefront of protests, burning headscarves and cutting hair in protest against the oppression of the Islamic Republic, the rights group said "at least 3,953 women were arrested, of which 1,019 were identified by HRANA, [and]160 of them were female university students."
According to HRANA, since September's unrest, at least 2,003 women were reprimanded in different ways, including being summoned to police authorities, due to the improper wearing of the hijab.
The report went on to document the attacks seen across the country on girls' schools and university dormitories, which began on November 30 in Qom.

"Since the beginning of December 2022, at least 290 attacks on schools affecting at least 7,060 students have been reported. This number of affected students is exclusive to the 103 schools that have reported data in this regard," the group said.

Nearly four months after the beginning of suspected poisonings in schools in Iran, which have now spread to the dormitories of female students, the authorities of the Islamic Republic have failed to provide a convincing clue regarding the attacks.
"Despite the advances in women's situation worldwide, the statistical information shows their situation in Iran is alarming," the group said. "The situation of women in Iran is dire."
Brutality and oppression against women continues, with at least 15 women killed for 'honor reasons, according to the latest report. "Honor killings are a brutal practice in which women are murdered by their family members for bringing 'dishonor' to their family. This practice is not only a violation of women's rights, but the practice also serves as a grave violation of human rights and the right to life," it said.
Several factors prevent rights groups from analyzing the full scope of violations committed against women in Iranian society and urgent action is required to address the issues faced by women in Iran on a daily basis rooted in gender-based discrimination codified in both law and practice.
"The government must take concrete steps to protect women's rights, end discriminatory laws and practices, and ensure that perpetrators of violence against women are brought to justice," HRANA's report stated. "On this International Women's Day, we must continue to raise awareness of the struggles faced by women in Iran and advocate for their rights and equality."
The sentiments of the HRANA report are echoed by rights groups worldwide. In December, Iran was removed from the UN Commission on the Status of Women. Given the situation in Iran, it said: "Iran's membership at this moment is an ugly stain on the Commission's credibility."