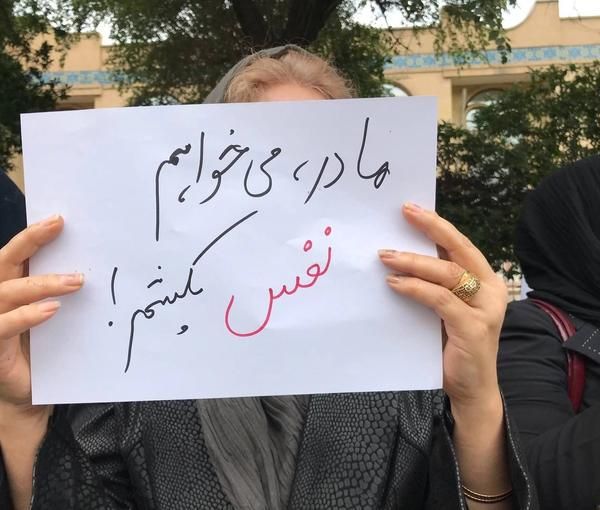 Iran Witnesses Fresh Round Of Protests In Wake Of Continued Student Poisonings
Iranians across the country have held anti-government protests outside education departments in dozens of cities demanding security protection for girls' schools and dormitories as mysterious chemical poisoning attacks continue.
Protesters chanted slogans such as "death to the child-killing regime" in cities including Kashmar, Saqqez, Harsin, Aligudarz and Ardebil, with security forces breaking up the protests in several locations and regime agents throwing tear gas at people in the northern city of Rasht.
In the capital Tehran, a group of protesters gathered in downtown Jomhouri Street with teachers and citizens also gathered in front of an education department office to slam the brutality against students, especially schoolgirls, who have been at the forefront of protests since September, seen cutting their hair and burning headscarves and photos of the Supreme Leader.
Reports say people in the religious city of Mashhad called for the resignation of officials as answers are still missing from the attacks which began in November and have since seen dozens of schools and university dormitories targeted by an unknown chemical poisoning.

The Coordinating Council of Iranian Teachers' Trade Association called for the gathering which took place on Tuesday, declaring their solidarity with the girls, hundreds of whom have been ill and hospitalized with symptoms including nausea, vomiting and dizziness, as well as respiratory issues. "We the working and retired teachers will not leave our children alone in such a painful situation," a statement said.

The Islamic Republic has failed to issue a clear report on those responsible, the type of chemicals used, or make any arrests. It is feared that the regime is quashing female protesters from backing protests triggered by the death in custody of Mahsa Amini, arrested by morality police for the incorrect wearing of her hijab.