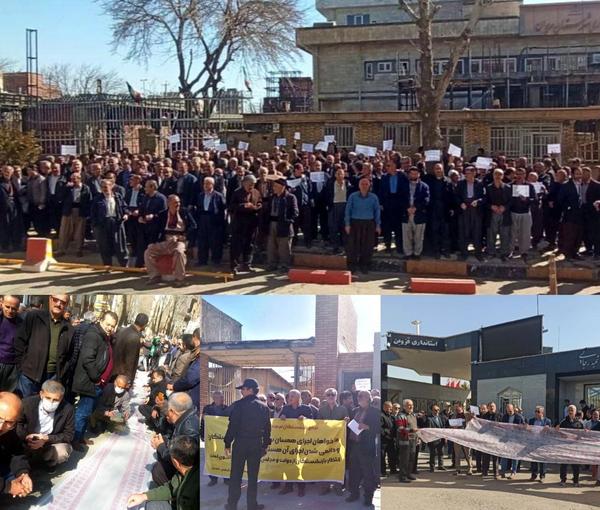 Iranian Retirees Stage More Protests Over Living Conditions
A group of Iranian retirees have held gatherings in front of the governorate buildings in several cities across the country calling on the government to resolve their problems.
In the capital Tehran, regime forces attacked the gathering of retirees. In the cities of Yazd, Sanandaj, Shahrekord, Kermanshah, Marivan, Ardebil, Ilam, Arak, Qazvin, Rasht, Esfahan, Tabriz, Kerman and Sari the retirees chanted slogans like "Costs are in dollars, pensions are in rials", "Expenses, inflation are taking people's lives", and "Incompetent government, resign, resign".
The nationwide gatherings were held to protest the poor living conditions and regime's failure to increase payments for the retirees.
According to trade union organizations, in Tehran, pensioners gathered in front of the parliament, but the security forces dispersed them.
Eyewitnesses say, "the situation was very tense, and the forces physically assaulted the protesters."
According to the Coordination Council of Iranian Teachers' Trade Associations, the security forces violently arrested several people in front of the parliament.
On Monday, Telecommunications retirees also gathered in Esfahan, Sanandaj, Arak, Bandar Abbas, Kermanshah, and Khorramabad to protest the government's inattention to their demands as inflation soars and their pensions remain unchanged.
Iran witnessed another wave of daily protests and strikes since Saturday, as its currency sank leaving ordinary people to wonder how they can afford minimum necessities.