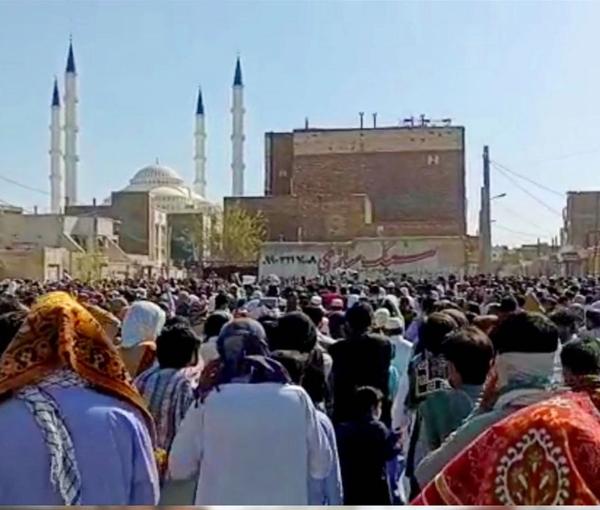 People Protest In Iran's Zahedan Amid Heavy Crackdown
The Iranian regime was determined to prevent the Sunni population of Zahedan to hold another round of protests Friday by heavily deploying its security forces.
However, worshippers held their customary Friday protest rally in the provincial capital of Sistan-Baluchestan following prayers, chanting "Death to Khamenei" and "Death to IRGC."
Due to internet shutdown by the government, the sermon by outspoken Sunni leader Mowlavi Abdolhamid was not broadcast live. Internet watchdog NetBlocks confirmed that the real-time network data showed a significant disruption to connectivity in Zahedan. "The incident comes amid a growing security presence during Friday protests," said NetBlocks.
Makki Grand Mosque, where Abdolhamid usually delivers his Friday sermons, was under siege since the early hours of Friday and security forces tried to enter the Sunni mosque but were confronted by angry people. Some social media videos show snipers stationed on the roofs of the buildings and hills in the area.
"We swear on our comrades' blood to stand strong until the end," hundreds of demonstrators were seen chanting in a video from the flashpoint city. Another widely-circulated video showed security forces beating and arresting a Baluch man trying to enter the Makki Mosque.
Similar protests were also reported in other cities of the province such as Khash and Rask.
An audio file of Friday prayer sermons was released to media later in the day, in which Abdolhamid condemned the crackdown that has been going on for over five months across the country, calling for restraint by regime forces.
"Listen to the people and the opposition, and if you cannot solve the problems of the people, leave and let someone who can solve come forward," he said, implying the need for fundamental change.
"There are problems with domestic policies, and these problems have led to people's protests," Abdolhamid said, adding that the country is in "a serious crisis" and it requires major thinking emerge from it.
Decrying the economic hardships imposed on the people due to rising inflation and devaluation of the national currency, he said that Iran is a rich country and such problems stem from maladjusted domestic and foreign policies. This is the result of having tensions with many countries, he noted.
"Accept that your policies are wrong... we are not your enemies, we feel sorry for the people who do not have the power to buy bread and meat," he added.
He also talked about the massacre of people in the city, known as Bloody Friday, which took place on September 30, when security forces killed more than 80 people, including women and children.
A protester holding a placard during the rally in Zahedan on February 24, 2023
Calling for the truth to be clarified, he said that people were shot at from four directions and nearly 100 people, including 18 children, were killed; 300 were injured, 80 of whom are still hospitalized; 17 people were shot in the eyes.
Mowlavi Abdul-Ghaffar Naqshbandi, the prayer leader of the city of Rask, issued a statement on Friday, threatening the regime of "a historic fatwa." A fatwa is legal ruling is Islamic which reflects changing economic, social and political circumstances, and is usually abided by the Muslims.