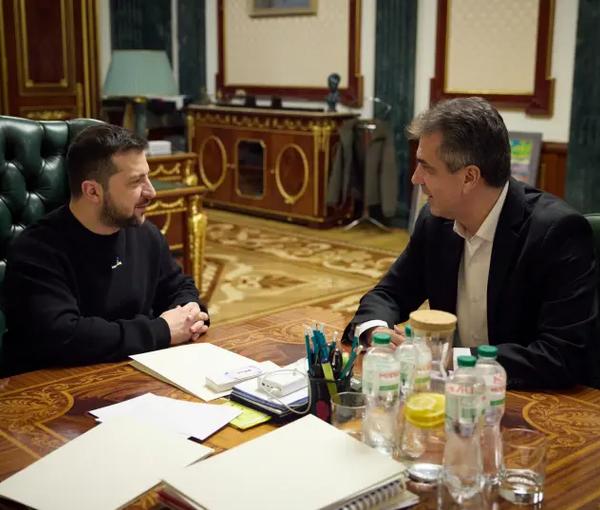 Iran Is Common Enemy Of Israel And Ukraine – Zelenskyy
Ukrainian President Volodymyr Zelenskyy has told Israeli Foreign Minister Eli Cohen that the Islamic Republic is their "common enemy." 
During their meeting in Kyiv on Thursday, the two also spoke about deepening cooperation against Iran in the international arena, Israeli media cited Cohen as saying. The meeting took place during Cohen's solidarity visit to Ukraine, the first high-level visit of an Israeli official to the war-torn country since Russia's invasion last year. 
"The evil face of Iran is being revealed in Ukraine," Cohen told Zelenskyy. 
Cohen made it clear to the Ukrainian president that Israel does not plan to provide it with defensive weapons, the kind that could protect Ukrainian citizens against armed Iranian drones Russia has launched against them. However, Israel intends to fulfill the previous government's promise to provide Ukraine with an early warning alert system, something that former Defense Minister Benny Gantz had already told Ukraine would happen last October.
Cohen said he hopes to send the system within three months, also promising to secure a funding guarantee worth $200 million for healthcare and infrastructure projects.
Iran's Islamic government has supplied hundreds of drones to Russia since mid-2022 that have been used during missile attacks to swarm Ukrainian air defenses. Sources in Tehran told the Guardian this week that the Islamic Republic used boats and a state-owned airline to smuggle new types of advanced long-range armed drones to Russia. Unlike Shahed 131 and 136 drones, which have been broadly used by Moscow in kamikaze attacks against Ukrainian infrastructure, the higher-flying drones are able to deliver bombs and return to base.