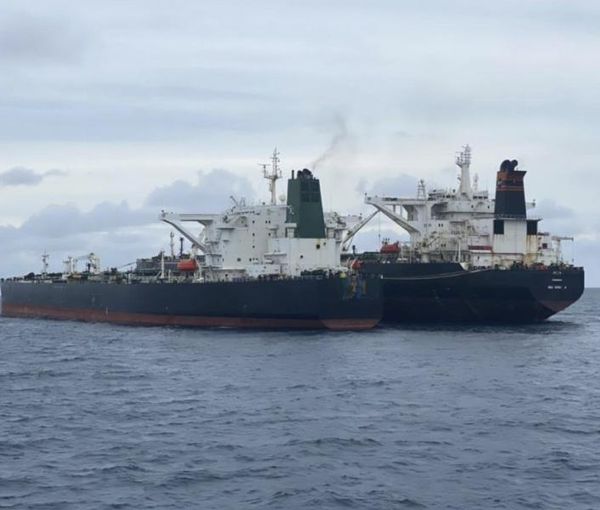 Washington Imposes New Sanctions On Firms Smuggling Iranian Oil
The United States imposed sanctions Thursday on companies it said that play a critical role in the production, sale and export of Iranian oil and petrochemicals.
Based on a new policy of increasing pressure on Tehran to reduce its illicit oil trade with China, the new sanctions targeted shipments to Asia.
The US Treasury Department in a statement said it imposed sanctions on six Iran-based petrochemical manufacturers or their subsidiaries and three firms in Malaysia and Singapore over the production, sale and shipment of hundreds of millions of dollars worth of Iranian petrochemicals and petroleum.
The latest US move against Iranian oil smuggling comes as efforts to revive Iran's 2015 nuclear deal have stalled and ties between the Islamic Republic and the West are increasingly strained as Iranians keep up anti-government protests.
Washington has announced a series of new sanctions since October.
"Iran is increasingly turning to buyers in East Asia to sell its petrochemical and petroleum products, in violation of U.S. sanctions," Treasury Under Secretary for Terrorism and Financial Intelligence Brian Nelson said in the statement.
"The United States remains focused on targeting Tehran's sources of illicit revenue and will continue to enforce its sanctions against those who wittingly facilitate this trade," Nelson said.
China has been the main buyer of illicit Iranian oil since full sanctions were imposed by the Trump administration in May 2019.
The tougher approach by Washington is also motivated by Iran's decision to supply military drones to Russia that are being used to target Ukraine's civilian infrastructure.
The Biden Administration's 18-month-long indirect talks with Iran to revive the 2015 nuclear deal (JCPOA) failed to produce a result at a time when popular protests broke out against the Islamic Republic and the use of its kamikaze drones by Russia was revealed in late September 2022. These three factors pushed the administration to say in October that it was no longer focused on reviving the JCPOA and its priority was supporting the rights of protesters in Iran.
Thursday's move targeted firms the Treasury accused of being involved in facilitating the sale and shipment of petroleum and petrochemicals on behalf of Triliance Petrochemical Co. Ltd., which was hit with sanctions by Washington in 2020.
Among the Iranian companies targeted were petrochemical producer Amir Kabir Petrochemical Co. (AKPC), its subsidiary Simorgh Petrochemical Co. and four subsidiaries of previously sanctioned Marun Petrochemical Co.
Treasury said Triliance has purchased millions of dollars worth of low-density polyethylene produced by AKPC for shipment to buyers in China.
Treasury accused Singapore-based Asia Fuel PTE. Ltd., which was also targeted, of facilitating the shipment of petroleum products worth millions of dollars to customers in East Asia.
Sense Shipping and Trading SDN. BHD. in Malaysia and Singapore-based Unicious Energy PTE. Ltd. were also hit with sanctions.
The action freezes any US assets of those hit with sanctions and generally bars Americans from dealing with them. Those that engage in certain transactions with the companies also risk being hit with sanctions.
With reporting by Reuters