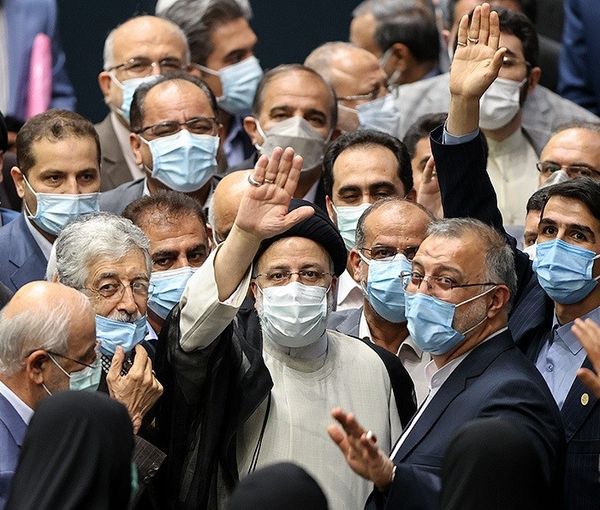 Talk Of Reform In Iran Signifies Quest To Reclaim Lost Legitimacy
Amid a legitimacy crisis for Iran's regime there are signs that reformist figures are being allowed to speak out possibly as a safety valve to save the system.
As parliamentary elections next year are on the horizon, the regime will have a hard time to have any sort of vote resembling at least a limited choice, unless it allows some reformists to run for seats.
Some conservatives acknowledge the need for essential reforms in the country's political system, and the core of the regime under Supreme Leader Ali Khamenei might consider ending the isolation it has imposed on reformists.
Influential conservative politician and a member of the Expediency Council Mohammad Reza Bahonar is one of the conservatives who has pointed out the need for reforms. Bahonar said in a recent interview: "We need a second Republic," meaning that a Constitutional Assembly should be formed to determine new boundaries for the government's authority and the people's rights.
There are indications that the regime might tolerate reform-minded candidates in the upcoming elections. Members of the press have pointed out more frequent public appearances by former President Hassan Rouhani. He recently met with a like-minded press corps of moderate and reformist journalists and media owners. Meanwhile, he has been speaking out about political issues.
Reformist Mir-Hossein Mousavi under house arrest since 2011
In one of his latest political remarks, Rouhani said that "a minority government cannot solve the country's problems." His characterization of Raisi's all conservative administration and the ultraconservative parliament as a "minority government" was reminiscent of his well-known art of tact and dry sense of humor.
There are other reform-minded contestants too for the next election. They are politicians such as Mostafa Tajzadeh who is in jail, and former Prime Minister Mir-Hossein Mousavi who has been under house arrest since 2011. However, if Khamenei is going to allow reform-minded politicians to run for key positions, he is highly unlikely to settle for anyone known to be more of a reformist than moderate conservative Hassan Rouhani.
On Saturday, February 4, Tajzadeh issued a long statement calling for constitutional reforms, i.e, preserving and beautifying the Islamic Republic.
Mostafa Tajzadeh, a former deputy minister, arrested in July 2022
On the same day, Mousavi also introduced his version of a call for constitutional change, which could be summarized as holding a free and fair referendum on changing the constitution or writing a new one, if necessary, forming a constitutional assembly, holding another referendum on the assembly's ratification, establishing a political order based on rule of law and the people's will. Mousavi's call was clearly more radical, as he declared that the regime cannot be reformed.
These developments coincide with some conservatives also emphasizing the need for reform moves to boost the regime's legitimacy.
Conservative politician Bahonar, asking for reforms said that protests have not really ended, and warned that after the protests recede, the regime should not forget about the people's grievances and demands, although "we tend to forget about their complaints as soon as the situation calms down."
He said, as the country gets closer to a parliamentary and an Assembly of Experts election next year, "we need to remember that an election without the presence of our rivals would be meaningless."
He called the recent protest "a hybrid war against the Islamic Republic" waged by Europe, the United States and international media and political forums. He also acknowledged the role of Iranian expats and celebrities in the protests. Nevertheless, he ignored hundreds of thousands of Iranians who took to the streets for over five months.
Bahonar said that foreigners were prompted by recent low-turnout elections to believe that the Islamic Republic has lost its "social capital." He added that even those who take part in pro-regime demonstrations have many complaints about the performance of the President and other state officials. He further suggested that dialogue should be maintained between the people and the government and elections should be competitive.
He also pointed out that conservatives' political rivals should not be barred from elections as it was the case in parliamentary and presidential elections in 2020 and 2021. He also criticized the regime for weakening political parties over the years.