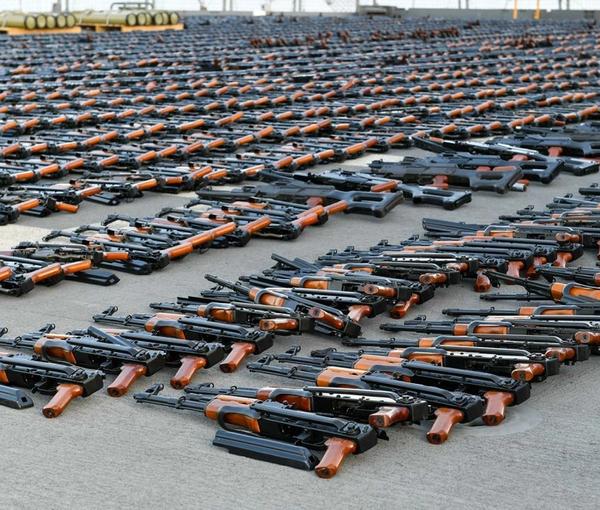 US Military Helped Intercept Yemen-Bound Weapons From Iran: Pentagon
The US military says it played a role in an operation last month that intercepted an Iranian shipment of weapons to Yemen's Houthi rebels.
The US military announced Wednesday that the US Navy assisted the French military in seizing thousands of assault rifles and half a million rounds of ammunition that were being transferred from Iran to Yemen in January.
US Central Command confirmed over 3,000 assault rifles, 578,000 rounds of ammunition, and 23 anti-tank guided missiles were confiscated.
It also added that the seizure is "one of four significant illicit cargo interdictions over the past two months," which has prevented the transfer of more than 5,000 weapons and 1.6 million rounds of ammo to Yemen. Another seizure of arms was announced earlier in January.
In a separate release on Wednesday, CENTCOM also announced that Yemeni security forces recently seized 100 unmanned aerial vehicle engines "bound for Houthi militants," but it did not specify when the seizure happened.
The seizure came just five days after CENTCOM announced that the US had intercepted a shipment of 2,116 Iranian assault rifles heading for Yemen.
Yemen has been the scene of a civil war since 2015. Tehran has supported the Houthis, a rebel group that overthrew the government at the beginning of the war, against a Saudi-led coalition. The war has caused widespread poverty and left tens of thousands of civilian casualties, creating one of the world's worst humanitarian crises as aid workers say.