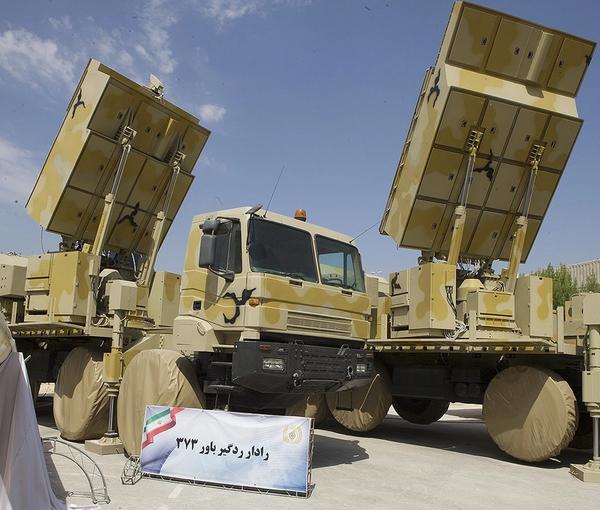 Details About IRGC Building Air Defense Network in Syria
Amid new sanctions by Western countries on Iran's Revolutionary Guard for human rights violations and other mischiefs, the multi-role organization is ramping up Syria's air defense system, despite rampant poverty in Iran. 
According to a report by the Newsweek earlier in the month, the Islamic Republic has invested tens of millions of dollars from the country's public budget for the deployment of a comprehensive aerial defense network in Syria. 
Newsweek cited an unnamed intelligence source from a nation allied with the United States that the IRGC over the past two years has been "promoting the deployment of aerial defense capabilities on its behalf in Syria at a cost of tens of millions of dollars in order to deal with the Israeli airstrikes."
Iran has played a major role in the Syrian conflict from 2011, by sending fighters and weapons to assist the Bashar al-Assad's forces and entrench itself near Israel.
According to the source, IRGC Aerospace Force deputy commander Brig. Gen. Fereydoun Mohammadi Saghaei, is leading the air defense project.
Information obtained by Iran International revealed that the deployment of the air defense equipment was previously being carried out under the supervision of an IRGC's Quds Force senior commander Javad Ghaffari, who was expelled from Syria last fall apparently over differences with the Russians, and now the mission is overseen by Mohammad Reza Zahedi, another Quds Force officer. 
IRGC's senior military officer Mohammad Reza Zahedi
The team includes secret logistics agents who are familiar with the sensitive equipment in the field of air defense, such as Gholam Hassan Hosseini. Dozens of Syrian forces work under Hosseini. Previously, the Iranian agent coordinating the transfer of military equipment to Syria was Alireza Rezvani, whose alias is Yaser. Rezvani returned to Iran in fear for his life after his identity was revealed. Two members of Lebanese group Hezbollah are also involved in the project: Abbas Muhammad Al Dabs (left) and Muhammad Mahmoud Zalzli. Intelli Times earlier published diagrams of their faces. 
"The promotion of these capabilities is carried out as a project shared with the Syrian army and possibly even with the aim of enabling independent Iranian operation of the aerial defense systems from within parts of Syria," the source told Newsweek, adding that "the Iranians assisted the Syrians in upgrading their radar array, designed to aid in detection and prevention of Israeli attacks—mainly against the Iranian establishment in Syria."
The weapons involved in the effort include Iran's Sayyad (Hunter) 4B solid-propellant missile, which was unveiled in November 2022. The projectile was paired with the Bavar-373 surface-to-air missile system and said to have a range of about 300 kilometers with a radar range of about 450 kilometers. It is reported that the system is capable of shooting down fifth-generation fighter aircraft, such as Israel's advanced F-35I fighters.
Iranian officials claimed greater capabilities for the domestically produced system, calling it more advanced than the US-made Patriot surface-to-air missile system and Terminal High Altitude Area Defense (THAAD) anti-missile system as well as the Russia-built S-300 surface-to-air missile system.
The report mentioned several recent airstrikes in Syria that targeted the new Iranian air defense deployment efforts, including strikes in Palmyra and Tartus in October 2021, Latakia in December 2021, Damascus in March 2022, Tartus in July 2022, and two strikes in Homs in November and December 2022.
The source also said that at least 10 Iranians involved in the air defense efforts in Syria had been killed by Israel in recent years. The Islamic Republic has acknowledged some of these casualties, such as IRGC officers Ehsan Karbalaipour and Morteza Saeednejad, identified by various reports as air defense engineers who were killed in Damascus last March, and Col. Davoud Jafari, an adviser from the IRGC's aerospace division who died by what Iran said was a roadside bomb near the capital Damascus in November.
Earlier in January, Israeli air strikes targeting Iran-linked assets in Syria hit the Damascus International Airport. Missiles also hit targets in the south of Damascus. Earlier, two regional intelligence sources said the strikes had hit an outpost near the airport of the IRGC's Quds Force -- a division primarily responsible for extraterritorial military and clandestine operations – and its affiliated militias.
Earlier reports had said that Syria and Iran have been deploying the new air defense systems since late in November around Damascus. There were reports that the new systems were built by Korean and Chinese companies and provided by Iran as part of agreements reached between Damascus and Tehran.