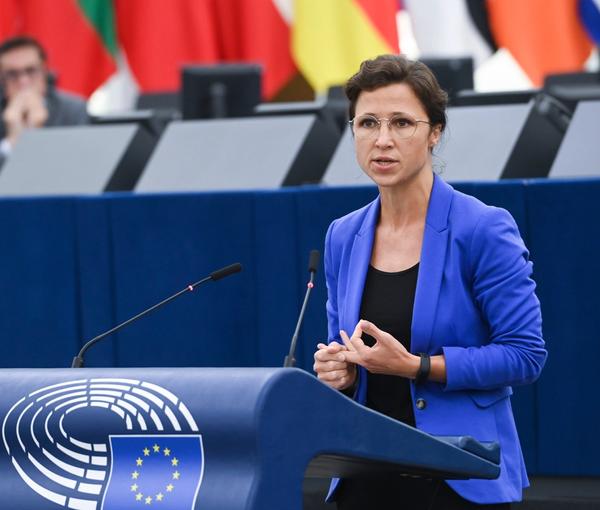 European Parliament Votes To Urge Terrorist Listing Of IRGC
The European Parliament overwhelmingly passed a resolution Thursday calling on the EU and member states to designate Iran's Revolutionary Guard as a terrorist group.
The resolution demands Iranian authorities end the crackdown on popular protests that started last September after a 22-year-old woman was killed in hijab police custody.
It also demands that Europe should sanction the Islamic Republic's Supreme Leader Ali Khamenei and its president Ebrahim Raisi.
The issue of adding the Revolutionary Guard (IRGC) to the list of Europe's terrorist entities became a rallying point for the Iranian diaspora, which launched online campaigns and held a large protest in Strasbourg on January 16 to lobby the European Parliament for passing the resolution.
MEPs demand that all those responsible for human rights violation should face EU sanctions and the IRGC should be on the EU terrorist list.
The resolution is not binding on the European Council that defines the general political direction and priorities of the European Union andcan make final decisions on sanctions.
The European Parliament's resolution urgesthe EU to expand its sanctions list to cover all individuals and entities responsible for human rights violations and their family members, including Supreme Leader Ali Khamenei, President Ebrahim Raisi, Prosecutor General Mohammad Jafar Montazeri and all foundations ('bonyads') linked to the Islamic Revolutionary Guard Corps (IRCG).
It also calls on the Council and the member states to add the IRGC and its subordinate forces, including the paramilitary Basij militia and the Quds Force, to the EU terrorist list. Any country in which the IRGC deploys military, economic, or informational operations should sever and outlaw ties with this entity.
The IRGC played a major role in suppressing antigovernment protests in the past four months, overseeing several security agencies that have killed over 500 civilians, jailed over 20,000 people and inflicted lasting injuries on hundreds of people.
Reports, however, say that the European Union foreign policy chief Josep Borrell is not in favor of sanctioning the IRGC, concerned that the Islamic Republic will not be forthcoming in nuclear talks with the West.
Negotiations that began in April 2021 to revive the 2015 Iran nuclear deal, known as the JCPOA, came to a deadlock in September. In the meantime, Tehran has supplied kamikaze drones to Russia, which are used in attacks on Ukraine's civilian infrastructure.
The Islamic Republic and its officials, extremely concerned about IRGC's designation, have been warning Europe in recent days against "the consequences" of such a decision.
The resolution also calls on Tehran in "strongest terms" to stop the execution of detained protesters. So far, the government has hanged four young men after sham trials. It also urges "the authorities of the Islamic Republic to ensure the immediate and unconditional release of all protesters sentenced to death and condemn the fact that criminal proceedings and the death penalty have been weaponized by the regime to stamp out dissent and to punish people for exercising their basic rights."
The European Parliament also condemned Iran's military assistance to Russia and its "transnational repression carried out by the authorities of the Islamic Republic, which includes espionage and assassinations, against the Iranian diaspora living in the EU. They call on the EU and the member states to protect those affected more robustly against such repression."