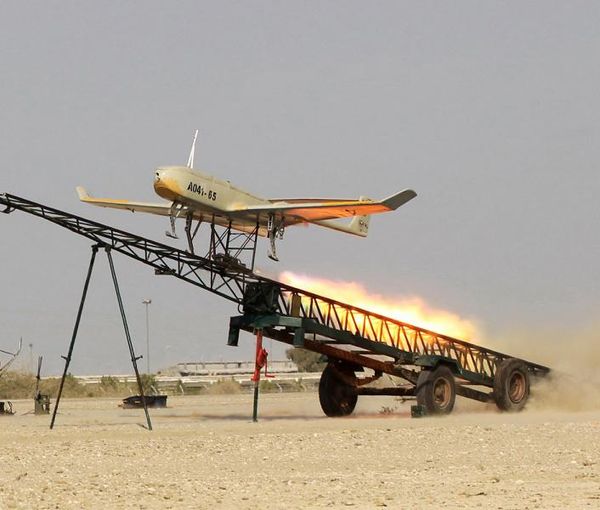 Tracing Iran Drone Parts A Game Of 'Whack A Mole'
A Quebec-based company has passed to the government its internal report on how its engines ended up in Iranian-made drones used by Russia in Ukraine.
Bombardier Recreational Products (BRP), best known for water-skis and snowmobiles, said it has established through a "thorough investigation" set up three months ago that an engine found in a shot-down Mohajer-6 drone had not been sold directly to either Iran or Russia.
A company spokeswoman said this week that Bombardier was "in full compliance with all laws and regulations," but disclosed nothing substantive in public about its investigation. The drone used the Rotax-912 engine made by BRP-Rotax, a subsidiary based in Gunskirchen, upper Austria.
Bombardier ended supplies of the engines to Iran in 2019, although the Mahtabal company in Tehran still markets itself as official representative for Rotax engines. The date – 2019 – suggests this was a response to the United States 2018 introduction of 'maximum pressure' sanctions that threatened punitive action against third parties dealing with Iran. The engines, made primarily for recreational use, would not have been covered by a partial United Nations arms embargo on Iran that expired October in October 2020.
'Unclear usage'
But in 2020, Bombardier also barred sales to Turkey and announced it would stop sending engines to "countries with unclear usage." This followed reports its engines were used by Turkish-made Bayraktar TB-2 drones deployed by Azerbaijani forces in war with Armenia.
The result of an attack by Russia using Iranian drones in Kyiv. December 14, 2022
Ironically, Bayraktar TB-2 drones are currently used by Ukraine against Russian forces, while a British defense analyst in November identified from a photograph an engine from a Bombardier jet ski in a Ukrainian marine unmanned vehicle recovered by Russian forces in Crimea.
Whilst media coverage of Iranian-made parts in Russian drones led to outcry from politicians in north America and western Europe, the manufacturers' reactions reflect the difficulty, and expense, in tracing where sold goods end up. Engines suitable for light-weight drones are cheap and readily accessible, while categorizing equipment as having a potential military application is near impossible. After decades of sanctions, Iranian buyers are adept at sourcing materials and even proud of it – Iran Press News Agency last year reported that the Shaheed-129 drone, "an efficient bird," used the Rotax-914 engine.
There has been no public report from a US task force – involving departments of State, Defense, Justice, Commerce, and Treasury – launched December by President Joe Biden after the United Kingdom-based Conflict Armament Research said 82 percent of parts in shot-down Russian drones in Ukraine came from US companies. Texas Instruments, whose processors were in the drones, said it compliedwith "applicable laws and regulations in the countries where we operate."
Dmitri Alperovitch, former chief technology officer at the cybersecurity firm CrowdStrike, told CNN December that while US firms could do more to track their supply chains, end-buyers could easily switch middle-men – creating a "a game of whack a mole."
'Inflammatory actions'
Ukraine's ambassador to Israel said Friday that Israel's proposed transfer of missile-defense technology had been delayed by the government handover. New prime minister Benjamin Netanyahu, sworn in two weeks ago, has long celebrated a warm relationship with Russian President Vladimir Putin and has argued that any weapons sent to Ukraine would fall into Russian hands and reach Iran.
Both Europol and European Union Home Affairs Commissioner Ylva have warned of the dangers of weapons sent to Ukraine ending up in the wrong hands, with Canada among the countries warning it had no effective means to track them.
Iranian foreign minister Hossein Amir-Abdollahian is due to meet Russian foreign minister Sergei Lavrov in Moscow January 17 – a meeting the Russian foreign ministry has said will focus on boosting trade. In an interview with Izvestia published Thursday, Iranian Ambassador Kazem Jalali repeated Tehran's official line that while the root of the Ukraine crisis was "inflammatory actions of Nato," there was no way forward in military confrontation.