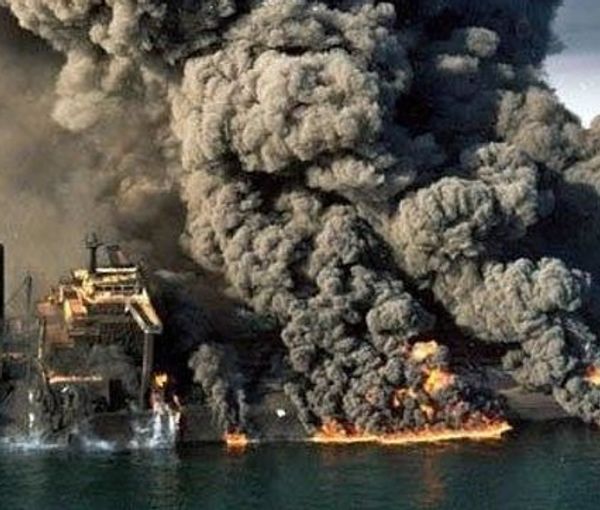 Law Firm Says It Has 'Top Secret' Iranian Documents On Tanker Tragedy
Two years after launching a case in Washington, law firm Herischi & Associates have announced a complaint in the British Maritime Court over the Sanchi tanker disaster.
Herischi & Associates, who are based in Bethesda, Maryland, say they have taken a case in the United Kingdom against the National Iranian Tanker Company (NITC), and against insurers for NITC and the Sanchi. The Panamanian-flagged, Iranian-owned tanker caught fire in January 2018 after colliding in the East China Sea, 530km south east of Shanghai, with a Hong-Kong registered Chinese cargo ship, the CF Crystal.
While the 21-strong Chinese crew were rescued, Iran announced that all 30 crew members on the Sanchi – 30 Iranians and two Bangladeshis - had died due to explosions, fire, and release of noxious gases resulting from a volatile 136,000-tonne cargo of natural-gas condensate.
But in a press release to publicize its latest case, Herischi & Associates claimed that the crewmen successfully left the ship, that the Sanchi was carrying a "secret cargo to be delivered secretly to North Korea," and that 22 crew were alive in Iranian custody "weeks after the accident." The press release gave no indication of what the secret cargo was.
Letter from Kim Jun Un
The law firm said it had discovered all this through gaining access to emails and recordings of Iranian officials, "volunteered sensitive information" from Iranian security forces, as well as "top secret Iranian documents" including a message from Revolutionary Guards intelligence to Iran's Supreme Leader Ali Khamenei. Herischi & Associates even claimed to have a letter from North Korean leader Kim Jung Un to Iranian supreme leader Ali Khamenei "thanking him for delivery of the cargo and his sadness [sic] for the accident."
Iran at the time announced that the Sanchi was sailing from Asaluyeh, Bushehr province, southern Iran, to South Korea. Nader Pasandeh, a senior official at Iran's Ports and Maritime Organization, told reporters that the Crystal had caused the collision through human error.
But in early 2019, Iranian media carried reports of family members protesting outside the foreign ministry, the Chinese embassy and the presidential office. Relatives told Shargh, Hamshahri and other newspapers that they had received telephone calls, broken off as soon as answered, from sailor relatives who had been on the Sanchi. Mohammad Mehdi Boroumandi, who chaired a government committee into the disaster, said claims "about the Sanchi crew being taken hostage" were "based on hearsay," while parliament member Mohammad Reza Kouchi called for an investigation into hoax calls.
'Undisclosed location'
In December 2019, Herischi filed a lawsuit in a district court in Washington DC against the 'National Iranian Tanker Company' and named officials on behalf of families of ten crewmembers of the Sanchi. According to the law firm's press release at that time, the families alleged "the crew of the Sanchi were seized after the collision" and had "been held in detention for nearly two years in an undisclosed location." Herischi cited "the key piece of evidence" as "multiple phone calls…made from crewmembers' cellphones to their relatives in the months following the ship's destruction."
In October 2020, Herischi announced thy were seeking over $1 billion damages for US citizens who lost relatives when a Ukrainian passenger airliner bound for Kyiv was January 2020 shot down over Tehran by a mobile missile launcher during high tensions with the US.