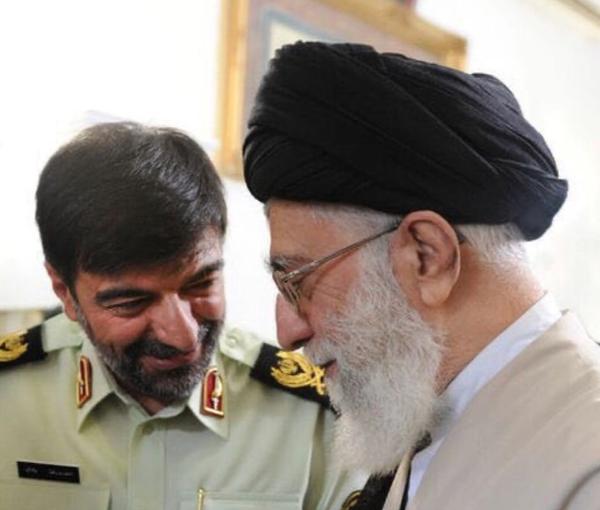 Iran's New Police Chief Hates Ties For Men And Loves Hijab For Women
Islamic Republic's Supreme Leader Ali Khamenei appointed Brigadier General Ahmadreza Radan as Iran's police chief last week, after four months of popular protests.
With Radan's track record as the heavy-handed former police chief of Greater Tehran, Kordestan and Sistan-Baluchistan provinces the appointment was immediately questioned by social media and foreign-based Persian media.
Most of Radan's ill reputation dates back to his role as police chief during the post-election unrest in 2009 and the performance of his men at the Kahrizak detention center where several young protesters including children of some state officials were killed as a result of police brutality. He was interrogated for long hours for the casualty toll of the post-election unrest.
Like many other intelligence and police officials, Radan is a veteran of the Iran-Iraq war in the 1980s and in essence an IRGC officer.
Radan's men were also seen in police vehicles running over the protesters in the streets of Tehran on several occasions in 2009 and 2010. There is also a famous audio recording posted on social media in which Radan is ordering his men in Tehran to shoot anyone they can among protesters.
Clearly his ruthless treatment of demonstrators and his violent enforcement of the compulsory hijab are among the reasons why Khamenei decided to bring him back from his comfort zone or possibly his exile at the police's Strategic Studies Center to the troubled and turbulent streets of Iran.
Radan was sanctioned for his human rights violations by the United States as early as 2010 and has been blacklisted by the European Union.
Special riot police attacking protesters in Tehran, in June 2009
The right man for Khamenei
During the past month the press speculated that Khamenei was unhappy with former police chief Hossein Ashtari's performance in quashing anti-regime protests. Although Khamenei said that Ashtari left his post at the end of his term of office, the press revealed that he had still more than two years to serve.
According to Etemad Online, Radan's hard-line views about security make him the right man to serve alongside a consolidated conservative government. He has been known for his ultraconservative positions about hijab and security since the time he joined the IRGC as a young man. He served as the Police Chief of Kordestan, a challenging region, from 1997 to 2000. Then he worked until 2004 as the police chief of Sistan-Baluchistan, another difficult area with a porous border, poverty and an oppressed Sunni population. He was transferred to Tehran in 2005 as the police chief of Greater Tehran and served until 2009.
He was one of the pioneers of enforcing a religious dress code through the 'morality police' where he expressed strict opposition to men wearing ties and women wearing boots and tight manteaus. President Ebrahim Raisi referred to this in his congratulatory message to Radan's. IRGC-linked Javan newspaper also praised Radan for tackling the hijab issue in the past years.
Ahmadreza Radan (C) as an IRGC fighter in the Iran-Iraq was in the 1980s
Radan has said that his "success" in that role was due to targeting the hijab issue right at clothing production centers where "the enemies were silently attacking religious values." He shut down many barber shops in Tehran for introducing new hair styles for the youth. Nonetheless, his strongest point, as far as Khamenei was concerned, was his violent crackdown on the 2009 protests. An experience that could come handy in the turbulent period of 2022 and 2023.
A man of no apologies
Radan says that "success" was the outcome of the police's close cooperation with Basij and the Intelligence Ministry, Rouydad24 reported. The two organizations provided the plainclothes forces who would recognize no barrier whatsoever in violently cracking down on protests.
Iranian media have said that Radan has come back to the forefront of tackling the protests with more power than before. Many Iranians still remember him in a controversial interview on state television in which he dismissed all the criticisms about his performance and insisted that "I am absolutely serious about security and hijab. People know what is right and what is not, and we know what to do if we want to take people with us and they refuse to come with us."
However, what happened to Mahsa Zhina Amini in police custody in mid-September showed that nothing is yet clear about what the police may and may not do. Some say former police chief Ashtari was removed from his post because he could not convince anyone, including Khamenei, that his plainclothes agents could stop the protests, although they beat and shot protesters at point blank range, and are responsible for hundreds of deaths since September.
What Radan will probably begin to understand during the next months is that today's protesters are extremely different from those in 2009. Instead of turning the other cheek they might slap back his men in the face.