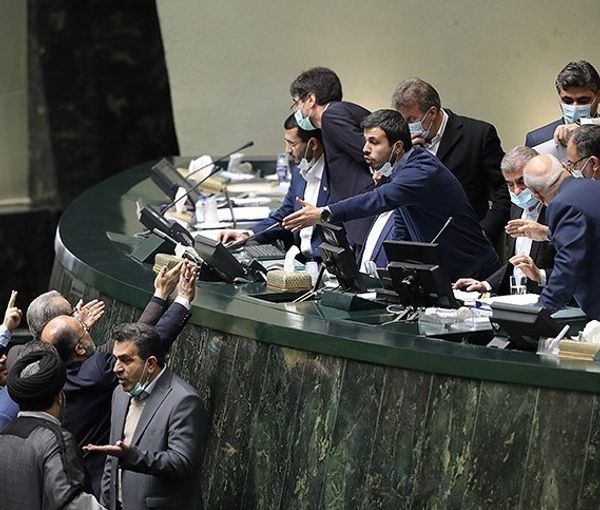 Iran Politicians Racing For Elections While Protesters Want Regime Change
Amid protests and economic crisis, top conservatives in Tehran are maneuvering to present themselves as viable alternatives for the presidency and the parliament.
A commentary in the January 7 edition of the reformist daily Etemad said that leading conservative politicians in the government are distancing themselves from the Raisi administration. Other politicians outside the government have broken their silence as the weakness of a government dominated by hardliners is being revealed.
Etemad wrote on Saturday that the neo-conservative Majles Speaker Mohammad Bagher Ghalibaf and ultraconservative presidential adviser Saeed Jalili have been lately trying to define new roles for themselves in the next decade.
While some politicians may be planning for the next decade, reformist columnist Abbas Abdi told Eghtesad Online on January 5 that the continuation of the current situation in Iran for another two years is inconceivable unending antigovernment protests and Tehran's international isolation.
In the meantime, former proreform presidential candidate Mohsen Mehralizadeh has harshly criticized the Raisi administration for failing to stand by its promises and reiterated that Raisi is not an educated man and that he made promises because he is not familiar with political and economic concepts.
Mohsen Mehrizadeh 'reformist' politician and for presidential candidate
The Iranian media have interpreted all these developments as well as recent moves by former Majles Speaker Ali Larijani and remarks by former President Hassan Rouhani against the Raisi administration as attempts to prepare for next year's parliamentary and the 2025 presidential elections.
However, according to Etemad, Jalili's populist rhetoric against the 2015 nuclear agreement and a new deal with the West mark his dreams of establishing an even more hardliner administration. Etemad wrote that Jalili's denial of the looming threat of an international consensus against the Islamic Republic is part of his campaign for ultraconservative populist utopia.
Hardliner Jalili, a staunch opponent to a deal with the West speaking to president Raisi in August 2021
The daily added that Ghalibaf on the other hand has a dream of repeating former President Akbar Hashemi Rafsanjani's "reconstruction government". During the past weeks Ghalibaf has been talking about a new development-oriented governance, but his occasional support for suppression of protesters contradicts his agenda. Nonetheless, since the protests started in mid-September, Ghalibaf has been repeating his keywords of "neo-conservatism" and "new governance" in a bid to create his political brand ahead of the next elections in Iran.
Ghalibaf also went to Qom and met with Iran's top clerics who in his support criticized Raisi's economic policies.
Ghalibaf has been often complaining about the refusal of many conservatives to support him in the past presidential elections although all the polls showed he was in a better position than the main conservative contestant particularly in 2013 and 2017.
At the same time, while Iran's reformists seem to have little hope for a political comeback, moderate conservatives such as Rouhani and Larijani find themselves in a better position to compete with the ruling ultraconservatives and are making some moves.
Standing in the middle, Mehralizadeh, who has never been accepted by the public as a reformist or by the government as a conservative, has come up with a new tactic. He says a political party, The Nation's Path Party, has written to him and asked to stand as a candidate in the next election. As a response, Mehralizadeh has once again challenged Raisi's academic and political credentials and pointed out that the most important threat against the Islamic Republic is "the fire of anger and revenge" resulting from violent treatment of the protests and advised the government to "speak softly to the nation."
While all these figures are talking about the continuation of the Islamic Republic, protesters in Iran do not seem to settle for anything other than a regime change and executions that shook Iran Saturday, do not seem to change this.