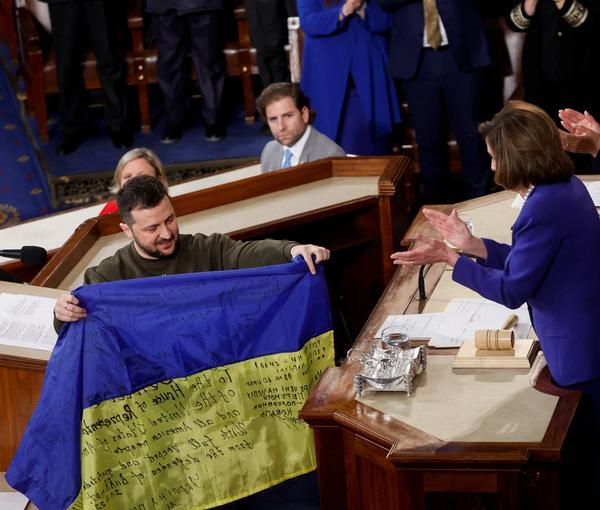 Ukraine Crisis Shakes Up US, Iran Calculations
The United States Treasury Friday designated six executives or board members of an Iranian company it said were involved in supplying military drones to Russia.
Qods Aviation Industries was itself sanctioned in November. The US also designated Friday the director of Iran's Aerospace Industries Organization over its role in manufacturing Iran's ballistic missiles.
"We will continue to use every tool at our disposal to deny [Russian President Vladimir] Putin the weapons that he is using to wage his barbaric and unprovoked war on Ukraine," Treasury Secretary Janet Yellen in a statement. The action was taken, said the Treasury, under Executive Order 13382, from 2005, 'Blocking Property of Weapons of Mass Destruction Proliferators and Their Supporters.'
The US argues that supply of drones from Iran violates a provision in United Nations Security Council Resolution 2231, which barred Tehran from trading certain kinds of weapons – including drones "capable of delivering at least a 50kg payload to a range of at least 300km."But the drones the US and Ukrainian say Iran have sent carry a slightly lighter load.
Iranian Shahed-136 drones used by Russia in Ukraine
While Friday's action may do little - any US assets of those designated can be frozen - it illustrates the Ukraine crisis changing calculations in Washington over Iran policy. The administration of President Joe Biden took office in January 2021 ostensibly committed to restoring the 2015 Iran nuclear agreement, but has shifted its focus towards sanctions over Tehran's links with Russia and its treatment of internal protests.
'Pure damage'
In Tehran, opponents of the 2015 agreement, the JCPOA (Joint Comprehensive Plan of Action) take heart. Saeed Jalili, top security official under President Mahmoud Ahmadinejad, has argued the JCPOA brought little inward investment and was "pure damage" even before the US withdrew in 2018.
Jalili advocates a 'resistance economy,' based on domestic production and lowering import dependence. But while Iranian domestic employment picked up slightly after the US in 2018 left the JCPOA and imposed 'maximum pressure' sanctions according to government figures, some economists suggested this was more reaction to circumstance, including the falling rial, than any strategy.
Likewise, with 'maximum pressure' stymying the Rouhani government's efforts of attracting western European investment, including energy majors, Iran turned elsewhere, an approach crystalized in President Ebrahim Raisi championing a 'turn east.'
Iranian foreign minister Hossein Amir-Abdollahian with his Chinese counterpart in Beijing, in January 2022
But many analysts argue that the Ukraine crisis – although regime officials forlornly hoped it would make Europe desperate for Iranian energy – has accelerated Iran-Russia rapprochement, which both sides say they would like to base on economics as well as security.
Stoking Iranian skepticism towards Russia
The Washington Institute this week published a policy paper by senior fellow Henry Rome arguing the US should "stoke longstanding Iranian skepticism towards Russia" to combat the "tightening of ties" triggered by the Ukraine crisis. Rome cited November's statement from 35 former Iranian diplomats calling Tehran's reaction a "grave mistake" and reiterated allegations that Russia had leaked to the media details about shipments of Iranian drones.
The US, Rome argued, should "emphasize the potential for friction and mistrust between the two partners" to "generate the most intense reaction in Tehran," as well as extending sanctions over drone shipment, and encouraging European States to designate Iran's Revolutionary Guards (IRGC) to "impose a greater economic cost on Tehran for supporting Russia."
European Union foreign ministers are expected to discuss new Iran sanctions at the end of January. In letter published in the newspaper Volkskrant on Friday, leaders of ten Dutch parliamentary parties called for the IRGC to be designated along with officials and their families.
Netanyahu the mediator?
In other fall-out from Ukraine, an aide to President Volodymyr Zelenskyy told Israeli television Thursday that new Prime Minister Benjamin Netanyahu was a potential mediator with Russia. Mykhailo Podolyak said he had "no doubt" Netanyahu "understands precisely what modern wars are and what is the essence of mediation under these conditions."
While the Ukraine war has boosted Israeli arms sales due to poorly-performing Russian weapons, Netanyahu - who touted his warm relationship with Putin in 2019 elections by slapping a giant picture of the Russian president outside the Likud Party headquarters - has said he was approached while in opposition to mediate but deferred to the government.