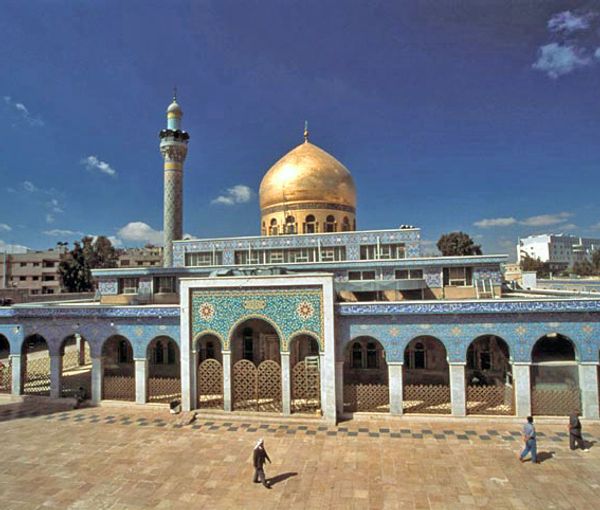 Iran Expanding Presence Near Damascus As Israel Watches
Israel says its ability to strike Iranian nuclear sites has improved and attacks could happen in a few years, while Iran is entrenching near the Syrian capital.
Iran is seeking to revive the expansion of its presence near Damascus, something it has always sought to do but was previously prevented by Russia, a report by Asharq Al-Awsat on Tuesday said, adding that Iran's objective is to create another "southern suburb", commonly known as Dahieh, like the Hezbollah-dominated suburb of the Lebanese capital Beirut.
The article alleges that the Islamic Republic is scaling up its purchase of homes and establishing new camps in areas adjacent to the zones of influence of Russia, which is currently preoccupied with its war in Ukraine.
The plan is to ultimately expand the influence of Iranian forces in the towns of the southern Damascus countryside adjacent to the Sayyidah Zeinab, a town in the Rif Dimashq Governorate, less than 10 kilometers to Damascus.
The town, locally known as Sitt Zaynab, is the main stronghold of Iranian militias and their proxies in the southern countryside of the capital.
Since late in November, Syria and Iran have been deploying new air defense systems, including jamming and early warning systems, around Damascus to prevent Israeli airstrikes in the area. There are reports that the new systems were built by Korean and Chinese companies and provided by Iran as part of agreements reached between Damascus and Tehran.
On Wednesday, Israel's defense minister said it could attack Iranian nuclear sites in two or three years, in unusually explicit comments about a possible timeline.
With international efforts to renew the 2015 nuclear deal (JCPOA) having stalled, the Iranians have ramped up uranium enrichment, a process that can eventually yield fuel for nuclear bombs -- though they deny having any such design. For more than a decade, Israel has issued veiled threats to attack its arch-enemy's nuclear facilities if it deems world powers' diplomacy with Tehran a dead end. However, some experts doubt Israel has the military clout to deliver lasting damage to Iranian targets that are distant, dispersed and well-defended.
the chief of staff of the Israeli Defense Forces Lieutenant General Aviv Kochavi
On Tuesday, the chief of staff of the Israeli Defense Forces Lieutenant General Aviv Kochavi said Israel's level of preparedness for an operation in Iran has dramatically improved.
In a speech at the Israeli Institute for National Security Studies, Kochavi said that the Islamic Republic is seeking to deploy hundreds of missiles in Syria along with deploying "thousands of Shia militiamen." The army chief said Israel managed to disrupt the Iranian vision in Syria "to establish a second Hezbollah in Syria."
Iran claims it is defending the Sayyidah Zeinab shrine, which is visited regularly by thousands of Shiite pilgrims from Iran, Iraq, Lebanon, Afghanistan, and Pakistan. Before the war broke out in Syria about 12 years ago, most of the population of the southeastern countryside of Damascus, including the towns of Babila, Yalda and Beit Sahem were Sunni Muslims.
However, after Damascus regained control of the area in the summer of 2018 and local families started returning to the towns, they were approached by strangers looking to buy their homes and real estate. According to reports, it became clear that those buying the houses were the families of fighters from militias affiliated with the Islamic Republic, originally from the Shiite towns of al-Foua and Kefraya in the Idlib countryside.