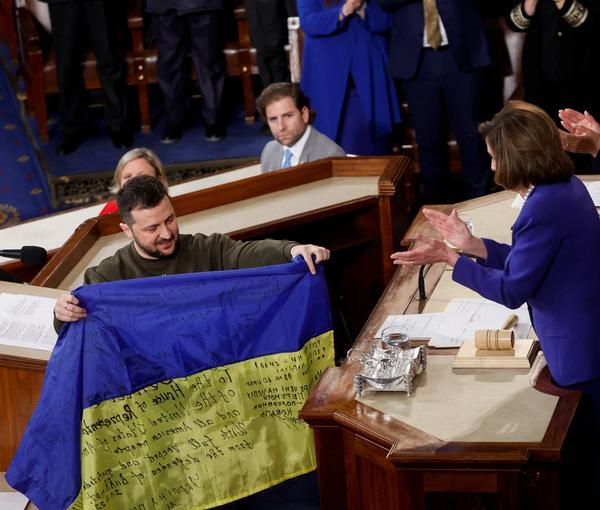 Iran Rejects Zelenskyy Drone Charge As US Slams Moscow-Tehran Ties
Iran has rejected charges made by Ukrainian President Volodymyr Zelenskyy in his speech to the United States Congress Wednesday.
Foreign affairs spokesman Nasser Kanaani said Thursday Zelenskyy had made "baseless accusations" over Iran's supply of military to drones to Russia. Kanaani reiterated Tehran's contention it had not "issued any military equipment to any side for use in the war in Ukraine."
Iran said in November that any its Shahed-136 drones – which employ many easily-bought US components – used by Russia had been sent before the current wave of hostilities began in February - which does not preclude their use in the war.
Kanaani charged that Zelenskyy had exploited the issue "with the hope of strengthening Ukraine's defensive power and American support for the war." In his emotional address, after which he handed House Speaker Nancy Pelosi a Ukrainian flag signed by troops defending the city of Bakhmut, Zelenskyy asked for more arms and more sanctions against Russia.
At the White House, President Joe Biden promised to "keep the flame of liberty burning bright" and pledged an extra $1.85 billion in weapons, on top of the current $20 billion, while Congress prepared to vote another $45 billion in overall aid.
In his Congressional address, Zelenskyy presented Iran as "an ally [of Russia]…in this genocidal policy" and a "terrorist." Responding, Kanaani said Tehran had "always respected the territorial integrity of countries, including Ukraine." Earlier this week, Foreign Minister Hossein Amir-Abdollahian told the Third Tehran Dialogue Forum that Iran wanted the conflict resolved through dialogue "taking into account the legitimate security concerns of the parties."
Back in July, when Russian President Vladimir Putin visited Tehran, Iranian Leader Ali Khamenei blamed the West, suggesting war had resulted, at least in part, from Nato failing to "recognize any limits or borders." Citing the 2014 Ukraine "coup" – protests that removed Moscow-inclined President Viktor Yanukovich and prompted Russia's seizure of Crimea – and Nato's expansion to 14 eastern European countries since 1999, Khamenei said the "dangerous creature" of Nato, if not faced down, "would have started this war anyway."
But what clearly showed that Khamenei supports Russia's attack on Ukraine was his praise for Putin to have taken the "initiative" against Ukraine.
Although most of the drones have been easily shot down and US spokesman Ned Price has conceded their role as small, some analysts suggest the real US fear is Tehran replenishing Moscow's missile stocks, which the US hopes to run down as the war continues.
US: Russia 'illegally' using Iranian, North Korean weapons
The US Thursday kept up denunciation of Russia-Iran links. In a statement Washington's ambassador to the United Nations Linda Thomas-Greenfield said Russia was "illegally" using weapons from both Iran and North Korea in its "Brutal War [sic] Against Ukraine." Thomas-Greenfield called this a "violation of UN Security Council resolutions."
She was apparently referring to North Korea's launching ballistic missiles this year, which she said implicated Russia as a "partner to such behavior." The illegality of acquiring Iranian military drones, she suggested, arose from "violations of UN Security Council Resolution 2231," which in 2015 endorsed the Iran nuclear agreement, the JCPOA (Joint Comprehensive Plan of Action). The US left the JCPOA in 2018 but along with France, Germany, and the United Kingdom now evokes the resolution in claiming the drones supply violates one of 2231's clauses – a claim Tehran and Russia reject.
Israeli officials, meanwhile, cited in Haaretz newspaper Thursday, said Iran could use technology from its space program to launch nuclear weapons. These officials, the paper continued, "say that two of the rockets Iran has developed for launching satellites into orbit – the Zoljanah and the QAEM-100 – have similar capabilities [to those of ballistic missiles], including engines and fuel tanks that can accommodate solid fuel."
Reporting that "building an intercontinental ballistic missile with such a range [over 4,000 km] is one of Iran's strategic goals," Haaretz informed readers this would "add Europe to the list of countries threatened by Iran's weapons, whether conventional or nuclear."