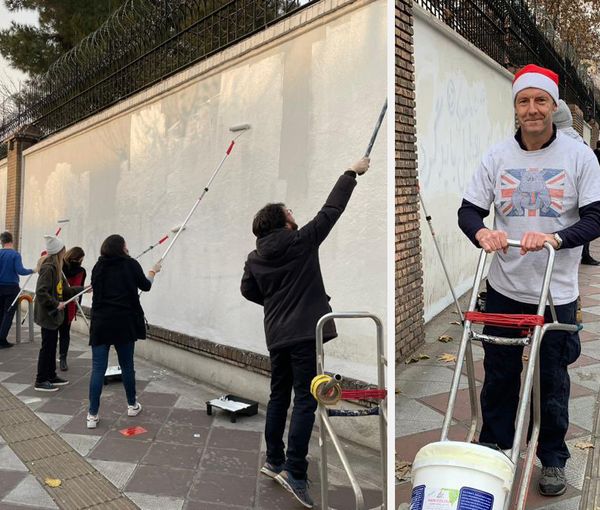 Volunteers In Iran Wipe Anti-UK Slogans Off Embassy Walls
A group Iranians citizen in the capital Tehran have voluntarily helped paint the walls of the British embassy vandalized with anti-UK slogans.
The slogans had been seemingly sprayed by some pro-regime elements to protest UK's support for anti-government protesters in Iran and condemn the violation of their rights.
Britain summoned Iran's most senior diplomat in London on December 9 to protest the hanging of Mohsen Shekari, the first such execution over ongoing antigovernment unrest.
British envoy to Tehran Simon Shercliff in a tweet on Thursday thanked Iranians and international friends from Germany, South Korea, France, Italy, Brazil and some other countries who sympathized with the UK.
Photos on social media show that Shercliff himself is also helping people to paint the walls.
This is not the first time the UK embassy is vandalized by pro-regime hardliners. In 2011, the embassy was attacked by amob of Basij militia and hardliner activists who ransacked offices and stole documents. One small building was also set on fire during the incident and several people were injured.
It came after the UK strongly supported punitive international sanctions imposed over Iran's nuclear program and in response Iranian parliament voted to downgrade ties with Britain and in effect expel the UK ambassador.