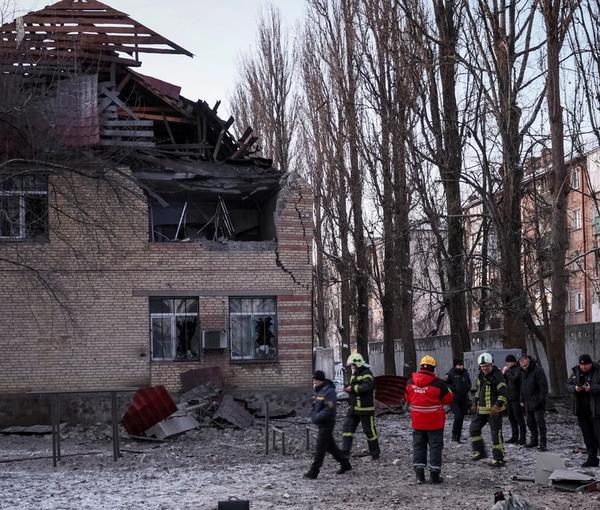 Iranian-Made Drones Attack Kyiv As US Set To Supply Patriots
Kyiv's air defense systems shot down 10 Iranian-made drones Wednesday, while the United States is closer to sending its Patriot air defense system to Ukraine.
Kyiv Mayor Vitali Klitschko said that air-defense systems shot down 10 Iranian-made Shahed drones and that there were explosions in the central Shevchenkivskyi district.
The Kyiv administration said that according to preliminary information, two administrative buildings in Shevchenkivskyi were damaged and information about potential casualties was being clarified.
The United States warned about Iran planning to deliver Shahed Kamikaze drones to Russia in July, something Iran has repeatedly denied, only conceding that it gave "some drones" to Russia before the Ukraine war began.
Russia began using the Iranian drones mostly against civilian targets in early October, with hundreds launched so far, but most shot down before reaching their targets.
Washington could announce a decision as soon as Thursday on providing the Patriot, two officials told Reuters on Tuesday. The Patriot is considered one of the most advanced U.S. air defense systems and is usually in short supply, with allies around the world vying for it.
Former Russian President Dmitry Medvedev has warned NATO against equipping Kyiv with Patriot missile defenses, and it is likely the Kremlin will view the move as an escalation.
But there have been Western reports in the past weeks of possible Iranian missile deliveries to Russia as its arsenal is running out due to extensive use against Ukrainian infrastructure targets that are now well defended with multiple systems, but not full proof.
A US Patriot air defense missile being launched. FILE PHOTO
The Patriot system would help Ukraine defend against waves of Russian missile and drone attacks that have pounded the country's energy infrastructure.
The United States and its European allies have also imposed rounds of sanctions against Iranian individuals and entities for their involvement in supplying drones to Russia. The latest instance of such sanctions was announced by the United Kingdom on Tuesday.
Foreign Secretary James Cleverly said UK sanctions were "taking the wheels off the Russian war machine." A press release referred to "information" released by the US December 9 - apparently a statement by White House Security spokesman John Kirby - showing Iran had become "one of Russia's top military backers."
Gaining Patriot air defense capability would be "very, very significant" for the Kyiv government, said Alexander Vindman, a retired Army lieutenant colonel and onetime leader of Ukraine policy at the White House.
"These are going to be quite capable of dealing with a lot of different challenges the Ukrainians have, especially if the Russians bring in short-range ballistic missiles" from Iran.
Kyiv held high-level military talks on Tuesday with Washington, Ukrainian President Volodymyr Zelenskiy's office said. The United States has given Ukraine $19.3 billion in military assistance since Russia's invasion on Feb. 24.
One of the US officials said Ukrainian forces would likely be trained in Germany before the Patriot equipment was delivered. Vindman said the training could take several months.
The Pentagon says Russia's recent surge in missile strikes is partly designed to exhaust Ukraine's supplies of air defenses so it can dominate the skies above the country.
For that reason, the United States and its allies have been delivering more air defenses to Kyiv, everything from Soviet-era systems to more modern, Western ones. Washington has provided NASAMS air defense systems that the Pentagon says have flawlessly intercepted Russian missiles in Ukraine.
With reporting by Reuters