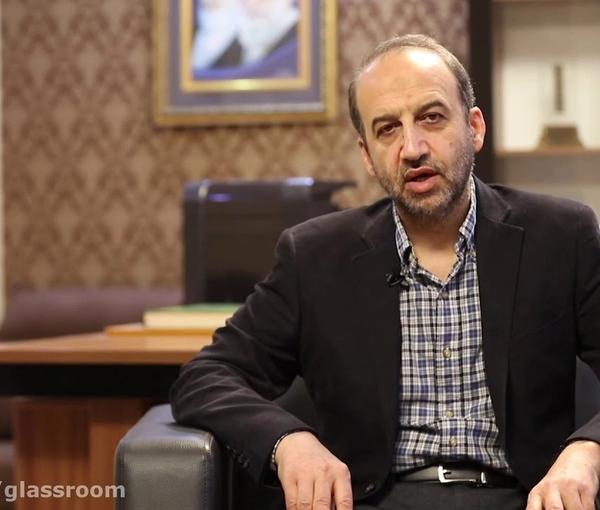 Insider Explains Systematic Corruption In Iranian Government
The former chief of Iran's state television says there are operatives in intelligence organizations who have vast powers, but their identities remain unknown.
Mohammad Sarafraz who resigned his post as head of IRIB (Islamic Republic of Iran Broadcasting) in May 2016 due to interventions in his organization's financial operations by Supreme Leader Ali Khamenei's son Mojtaba and former IRGC intelligence Chief Hossein Taeb, was one of the closest persons to Khamenei until then. The Supreme Leader later appointed Sarafraz as a member of the Supreme Council of Cyberspace. But Sarafraz says he resigned this post also, although Khamenei never accepted his resignation.
In an interview conducted by one of his former aides, Shahrzad Mirgholikhan, and published on You Tube, Sarafraz said that Iranian intelligence officers can even tell judges at the court what they should decide when ruling on various cases.
Sarafraz accused the government and banking system of systematic corruption that has led to vast income gaps among Iranians. He said most of this corruption exists in companies that enjoy the benefits of private firms but pretend to be government entities when they are paying taxes or report their financial status. These companies, he said, leave no room for competition by real private companies.
Eighty percent of Iran's economy is directly or indirectly controlled by the government or semi-official companies. A privatization drive began 15 years ago, but it mainly turned into setting up quasi-governmental firms controlled by powerful insiders who block competition and use public funds to stay afloat.
Former IRGC intelligence Chief Hossein Taeb (center)
Sarafraz explained that these entities use insider information to benefit from foreign exchange and gold price fluctuations when the government intervenes in the market. They also make hefty profits by circumventing sanctions.
Sarafraz also criticized the government for destroying most political parties and depriving Iranians of the right to choose their own candidates for the parliament or presidency. He said, "I believe that in a healthy system the government should provide a budget for political parties that train cadres for the government."
Instead, Sarafraz pointed out, rich and powerful government institutions act like political parties. These institutions determine who should be the country's President or who should win in the parliamentary elections, thanks to their financial, political and intelligence powers. Sarafraz was probably referring to the Revolutionary Guard (IRGC) and Khamenei's office and family who have been accused by politicians, such as reformist cleric Mehdi Karrubi, of engineering all presidential elections since 2005.
This has created "systematic corruption which is likely to land the country in deep trouble," Sarafraz insisted and said, that most of what the intelligence agencies and the IRGC do in Iran are illegal, but they can get away with it as no one is in control. Meanwhile, none of these organizations assume responsibility for the instability their actions create.
Sarafraz pointed out that "Government forces killed between 300 to 1,500 people in the 2019 protest. But no one accepted responsibility for even one of those cases."
Mojtaba Khamenei (right) seen greeting former Qods Force commander Qasem Soleimani
"These individuals and institutions also control the state television and order it how to report events, how to get forced confessions from political prisoners and how to broadcast them. That is one of the reasons why society has no trust in the state-owned television. Not only they do not tell the truth, but they also fabricate fake news to present a different narrative," the former head of IRIB said.
"The same guys and their agents wanted to take over the TV by controlling its financial resources," said Sarafraz while claiming that there are Mossad and CIA agents among them. He explained: "I told IRGC Commander Hossein Salami that those individuals and institutions [IRGC Intelligence and Khamenei's office] first tried to control the state TV and then targeted the IRGC. I told him that they were discrediting the IRGC."
"If the CIA has planned this, we need to praise them," he said.