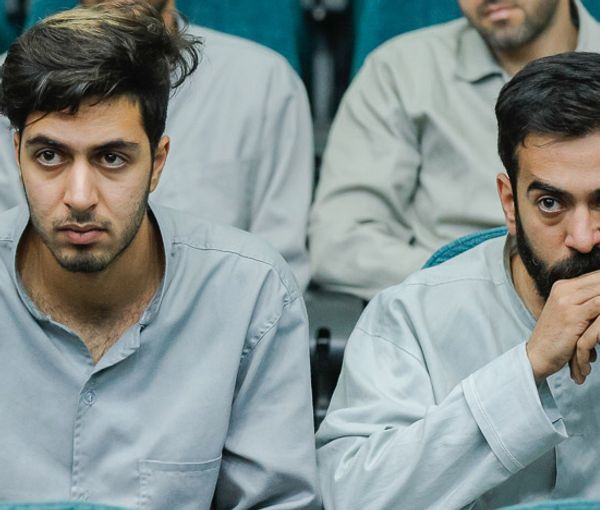 Iran Tortures, Sexually Abuses Detained Protesters: Reports
The Iranian regime keeps up pressure on detained protesters with physical, sexual, and mental torture in prison, reports from family members and others say.
Activists reported on Saturday that Mohammad Mehdi Karami, who is sentenced to death for the alleged murder of a pro-regime Basij member during a protest on November 3, has told his family about his "severe physical and mental abuse by government agents."
According to him, "he was beaten so hard [during arrest] that he lost consciousness and security forces thought he was dead and threw his body near a courthouse but as they were leaving, they realized he was still alive."
Karami further told the family that regime agents sexually harassed him during detention and "threatened to rape him while touching his genitals."
Karami along with a few others is accused of murdering a Basij security agent named Ruhollah Ajamian, who was sent to Karaj, near Tehran to confront protesters. Karami has been accused of "corruption on earth," a serious crime under Iran's Islamic laws, which carries the death sentence.
This is not the first report of regime's torture and abuse of detained protestors.
Family members of another protester say their 22-year-old son, Shadman Ahmadi, has died in prison after being tortured for hours following his detention during a protest in the western city of Dehgolan in Kordestan province.
The France-based Kurdistan Human Rights Network quoted his family as saying that Shadman was killed on December 8 as the result of torture during detention.
A Telegram channel affiliated with the Islamic Revolutionary Guard in Kurdistan has implicitly confirmed Shadmani's arrest on charges of "destroying public property, intimidation and disrupting public order" during the popular protests in Dehgolan.
The Center for Human Rights in Iran (CHRI) said December 6 that there have been many reports of detained university students being tortured and sexually abused while in state custody.
"Many cases of sexual assaults against individuals in Iranian custody have gone unreported, due to fears of further retaliation by Islamic Republic forces," added CHRI.
CHRI identified some university students, who have been abused and detained for long periods without access to legal counsel.
Soha Mortezei, a former Tehran University female student, who has been repeatedly arrested for engaging in peaceful activism, was physically and sexually assaulted while being transferred to Evin prison after being arrested, reports CHRI.
"Officers tied Soha's right hand to the top of one seat and her right leg to the top of another seat while suspended, she was beaten and sexually abused by a female officer," reported the University Students Trade Unions Council on November 27. "When she complained, she was injured with punches to the leg and stomach."
Melika Gharegozlou, is another female student arrested on October 2 who was taken to a psychiatric hospital where she was tortured, added CHRI.
Earlier a Kurdish-Iranian woman told CNN she both witnessed and suffered sexual violence while detained. "There were girls who were sexually assaulted and then transferred to other cities," she said. "They are scared to talk about these things."
Thousands of unidentified inmates are tortured in Iran's prisons. Some have been condemned to death or charged with heavy sentences, without having access to a lawyer. Many others are also tortured to make false confessions. Under such circumstances, Iran Human Rights Monitor in its 2022 annual report said only 25 cases of detainees' death under torture have been recorded while the true figure might be much higher.