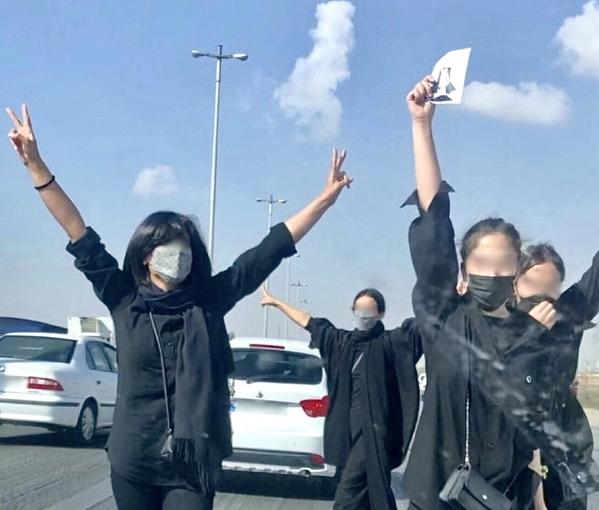 Rage Over Iran Execution Escalating, Further Protests Planned
Many Iranians enraged by the execution of 23-year-old Mohsen Shekari held protests Friday evening in some cities and more are planned for Saturday.
Security forces Friday attacked protesters marching in silence in Kermanshah, capital of a province of the same name in western Iran, and in Podol, a village of 1,200 near Bandar Lengeh in southern Hormozgan Province, where the locals have been protesting almost every night, and fired at them in both places.
In Tehran protesters gathered in smaller groups in different neighborhoods, and chanted slogans on the streets or from their windows. Young protesters who had gathered outside Shekari's home and lit candles in his memory were also attacked and beaten up.
Smaller protests were also held in Karaj, capital of Alborz Province only half an hour from the capital. "They took our Mohsen away, they brought back his lifeless body," protesters chanted in Karaj where five other protesters have apparently received the same sentence as Shekari, the death sentence.
"Five were sentenced to death for the killing of one Basiji. One was executed for injuring a Basiji. No one was held accountable for the killing of hundreds of citizens. No one was held accountable for killing thousands in the protests in the past few years. This regime has taken justice and freedom to the slaughterhouse," a tweet posted with the photos of the five sentenced to death in Karaj said Saturday.
These include three young teenagers-- Hossein Mohammadi, Hamid Ghara Hasanlou, and Mohammad-Mehdi Karami as well as Reza Aria, a middle-aged radiologist, a fifth person whose name has not been publicly announced.
Four citizens arrested in November awaiting execution. From L-R, Mohammad Mehdi Karami, Hossein Mohammadi, Reza Aria and Hamid Hassan-Gharanlu
On November 30, these individuals and eleven others were put on trial for allegedly beating Rouhollah Ajamian, a Basij paramilitary member to death during a protest in Karaj a month earlier. The five sentenced to death have been charged with "corruption on earth" for "acting against national security, attacking Basij and police members" resulting in Ajamian's death.
Like Shekari, some of the accused were deceived into admitting crimes they had not committed or tortured into making self-incriminating confessions which were then aired by the state television. Reportedly, dozens more have similarly been charged with "waging war against God" and "corruption on earth" which carry the death sentence.
Prominent journalist Abbas Abdi in a commentary published by the reformist Etemad newspaper Saturday argued that Shekari's execution could not be attributed to the implementation of the law, as he was very hastily tried in a closed court and without access to a lawyer of his choice, and his sentence was carried out within less than three weeks, which is very much out of the ordinary.
According to Abdi, by executing Shekari the authorities were either trying to "set an example for others or utilize the element of fear as a deterrent" and may also have been sending the message that there will be nosympathy and leniency and authorities are determined "to execute and eliminate" despite the claims that they wanted to hear the protesters' message.
Abdi wrote that this could be "catastrophic" even if the execution radicalized ten percent of the protesters who can resort to violent methods.
There have been calls on social media for further protests Saturday afternoon in various cities to honor those killed in the protests, now nearly 500, and Shekari who was the first protester known to be executed.