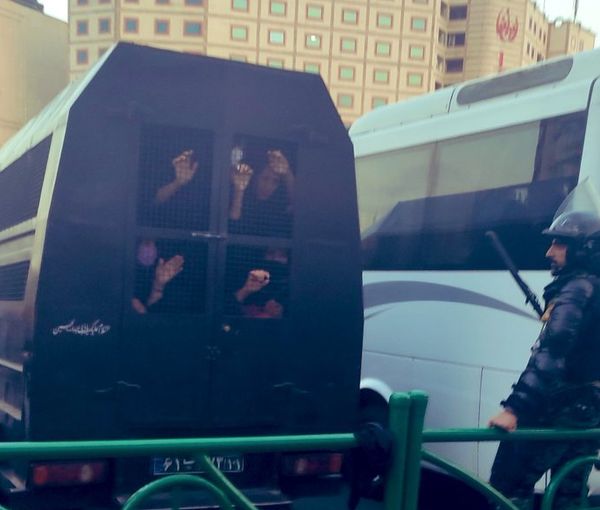 Academics Urge Government Not To Make Situation Worse In Iran
Iranian academic Farshad Momeni and others have urged government officials to avoid policies based on a tactic to "shock" the nation to neutralize opposition.
Momeni, an economist in Iran, said in an interview with reformist Jamaran News website, "use of force and resorting to shock-therapy to address economic problems will prevent interaction between society and the government." He added that attempts to shock the society will lead to a social catastrophe.
Although Momeni mentioned the economy, but the regime's deadly violence against protesters and cold-blooded executions are part of the same strategy to shock the nation and pacify it.
Speaking at a conference about Iran's current problems and its outlook for the future, Momeni said: "We are facing multi-dimensional crises in all areas of our social life. Economic crises are however easier to understand and those who have an interest in concealing the problem find them difficult to hide."
He added that the first thing the government needs to do is to understand the current situation and its challenges. This comes while other academics have also said during recent weeks that the government is largely in denial of the country's problems.
Momeni further added that Iran is facing a participation crisis as the people are left out of the decision-making process. He said: "It is immature for a government to announce a decision without putting it to debate first."
Iranian academic and economist Farshad Momeni
Government's policies are against public participation. This policy, he said, eliminates people's motivation to cooperate with the government. Momeni concluded that with its current policies, Iran's government is likely to end up in a quagmire like the one Russia ended up under communism.
Meanwhile, in an interview with Khabar Online, Iranian academic Mohammad Reza Tajik, a presidential adviser in the reformist government of President Mohammad Khatami (1997-2005), opined that the Islamic Republic of Iran may be moving toward widespread radicalism.
Offering his suggestion for a way out of the current Iranian crisis, Tajik said that "what Iranian politics lacked in recent years is the idea of moderation. Referring to the current nationwide protests in Iran, Tajik said there is no solution for the problem other than reaching out to the people." He added that as the government has failed to do so, the younger generation chose its separate ways and is experiencing a different kind of politics.
According to Khabar Online, when the government refuses to listen to the people and their demands, the doors to dialogue will be shut and subsequently, this leads to radicalization of political behavior. The website concluded that the street protests in the past months may be an outcome of such a situation.
Tajik told Khabar online that politics needs to be flexible like a driver in a road with several bends. If the road bends and the driver doesn't, this is likely to lead to a catastrophe. In such a situation, the government and the people become radicalized. In Iran, "we are sometimes facing a police state rather than a political institution."
According to Tajik, the problem with many Iranian politicians including the reformists is that many of them live in their own cave built on rhetoric as captives and they are even annoyed when someone tries to show them the light of the day.
A very clear example of Tajik's allegoric example in the cave occurred in Tehran on December 6 as Tehran's Mayor Alireza Zakani utterly refused to listen to students when he showed up at a university to speak and told them, "You have been talking all these years. Now you should listen to me!" The result was, of course, humiliation for the ultraconservative mayor.