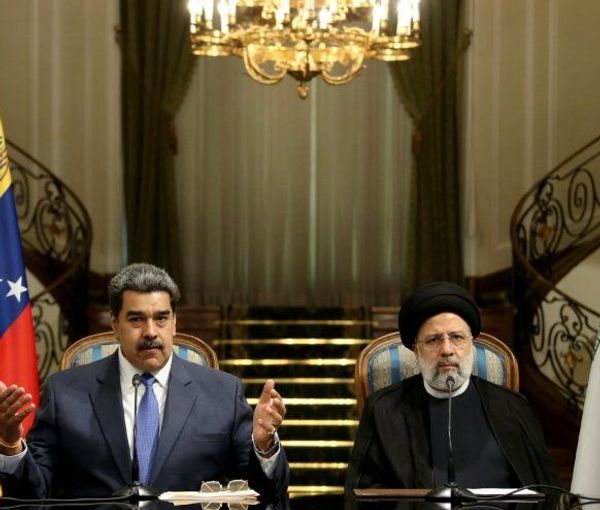 Exclusive: Iranian Regime Eying Venezuela As Sanctuary For Leaders
Dead worried about their fate in case of a revolution in Iran, the Islamic Republic's officials have started looking for safe havens, especially Venezuela, their close ally. 
Western diplomatic sources told Iran International that the Islamic Republic has started negotiations with its Venezuelan allies to ensure they'd offer asylum to regime officials and their families should the situation worsen, and the possibility of a regime change increases. 
According to these sources, a delegation of four high-ranking regime officials visited Venezuela in mid-October for negotiations to ensure that the Caracas government would grant asylum to high-ranking officials and their families in case "the unfortunate incident" happens. 
In early-November, an unnamed source at Tehran's Imam Khomeini Airport told Kayhan-London that three flights a day were taking off with "a considerable amount of cargo" bound for Venezuela, adding that "these people get their suitcases out in hours, with fewer passengers and flights. This began about two weeks ago, and we see these movements about two or three times a day."
"Initially, my colleagues and I thought these were embassy employees, though we noticed their car number plates didn't belong to any embassy. We don't know what they are transferring, and whether they are leaving the country with all the luggage or not. Because they won't let us examine closely. We just know that in past weeks, every day there are three to four flights to Venezuela," the source said. 
According to another report by the website of UK's Daily Express in October, top officials of the Islamic Republic were reportedly attempting to secure British passports for their families to exit the country amid the uprising against the regime following the death of Mahsa Amini, a 22-year-old woman who was killed in police custody in September.
Citing an unnamed Iranian source, the Daily Express also claimed that officials have been chartering up to "five flights a day" for their families, adding that some sections of "Tehran's main airport" have been taken over as a fast-track area for their own family and friends to escape the country.
The source said things are moving fast at the airport, noting that "It started more than two weeks ago. The regime changed all security details at the airport. They were moving civilians (friends and family) from the back entrance of the airport directly to the airplanes for international flights."
Social media users are reporting regular money transfers abroad by high-ranking officials of the regime. According to one account, former Foreign Minister Javad Zarif's wife is said to have transferred €4 million to an ABC Bank account in Shanghai through some agencies in Dubai.
There are also unconfirmed reports that officials are transferring their assets to friendly countries and there are official reports that many high-priced and luxurious homes in the capital Tehran are being sold below market value, strengthening speculations that some of the rich are in a hurry to leave the country. A recent report by the government's official news agency, IRNA, confirmed the sale of many apartments cheaper than their estimated prices, describing it as the result of lower purchasing power due to the economic crisis.
Venezuelan President Nicolás Maduro (left) and President Ebrahim Raisi during a meeting in Tehran