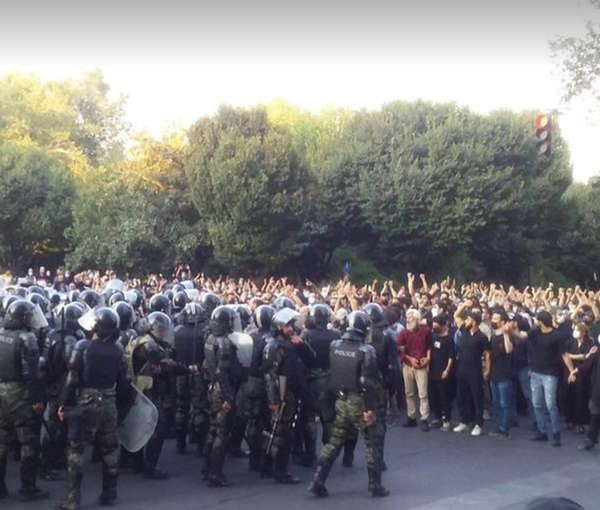 Iranians Ready For 3-Day Action As Regime Pulls Publicity Stunt
While Iranians were bracing themselves for three-day nationwide strikes and protests starting Monday, several cities on Sunday were scenes of antigovernment rallies. 
People in several neighborhoods of the capital Tehran, including Ekbatan and Naziabad, held gatherings on Sunday night chanting slogans against the regime and its ruler Ali Khamenei. "Khamenei listen to the sound of revolution," rang out in the darkness of night.
According to videos posted on social media, protesters in the northwestern city of Qazvin torched the Intelligence Ministry's banner which called on citizens to call 113 and submit their "security reports" ahead of the three-day nationwide protests and strikes. 
Rallies and clashes were also reported in several other cities across the country. Clashes were particularly violent in Murmuri and Abdanan, two small towns in Ilam province, where security forces and Revolutionary Guards were attacking homes and arresting people door-to-door. 
Since the current wave of protests began following the death of Mahsa Amini in custody of hijab or the so-called "morality" police, the number of Iranian women who are appearing in public without hijab is growing. But on Sunday, in a move that many people described as a publicity stunt by the Islamic Republic, reports emerged that the hijab police force has been disbanded. The news was widely covered by Persian and foreign media as a measure by the Islamic Republic to calm the unrest. "The same authority which had established this police has shut it down," Iran's Prosecutor General Mohammad Jafar Montazeri was cited as saying by state news agencies. 
However, state-run media reported later in the day that the news was not correct. Al-Alam state television said foreign media were depicting Montazeri's comments as "a retreat on the part of the Islamic Republic from its stance on hijab and religious morality as a result of the protests", but all that could be understood from his comments was that the morality police were not directly related to the judiciary.
Iranian lawmaker Nezamoddin Mousavi, however, signaled a less confrontational approach toward the protests following a closed meeting with several senior Iranian officials, including President Ebrahim Raisi. "Both the administration and parliament insist that paying attention to the people's demand that is mainly economic is the best way for achieving stability and confronting the riots," he said.
Numerous grassroot groups have called for protests on December 5, 6, and 7. December 7 is Student Day in Iran and marks the anniversary of the 1953 murder of several students at University of Tehran. It is a traditional day of nationwide rallies. To coincide with Student Day, protesters are calling for strikes by businesses and a rally towards Tehran's Azadi (Freedom) Square, according to posts shared on Twitter.
A statement released to the media by one such grassroot group claimed that people in at least 30 cities have announced that they will hold protests on the set dates.
Similar calls for strike action and mass mobilization have in past weeks led to an escalation of the revolt which has convulsed the country -- the biggest anti-government protests since Iran's 1979 Islamic Revolution.
The activist HRANA news agency said 470 protesters had been killed as of Saturday, including 64 minors. It said 18,210 demonstrators were arrested and 61 members of the security forces were killed.