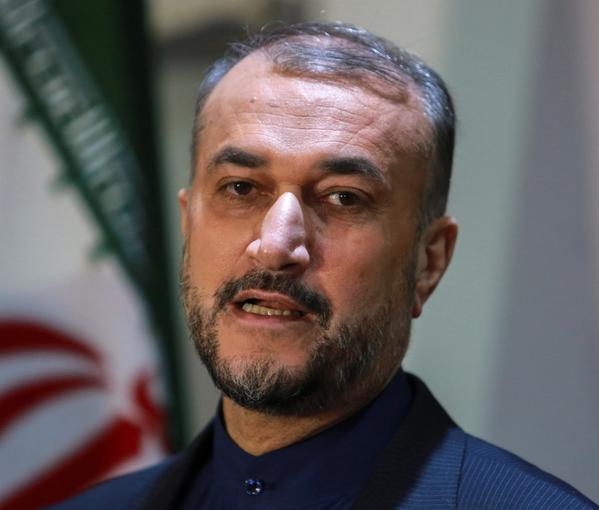 Iran FM Expresses Gratitude To Sanctioned TV Interrogators
Iran's foreign minister has met with and expressed appreciation to two interrogators and government TV figures who were recently sanctioned by the United States.
Hossein Amir-Abdollahian on Monday held a meeting with Ameneh Sadat Zabihpour and Ali Rezvani, two infamous 'correspondents' working for the state TV.
Amir-Abdollahian said "Western politicians claim to support free media, but they have shown in practice that their positions and statements are hypocritical and based on double-standards."
US Treasury sanctioned six senior officials with Iran's state-run media corporation this month over their role in broadcasting hundreds of coerced confessions of Iranians whose relatives died in government custody.
Treasury said Rezvani and Zabihpour had extracted and aired forced confessions in the style of news documentaries.
In 2020, Rezvani interviewed Ruhollah Zam, an Iranian journalist who was abducted, brought to Iran, and later executed by the regime.
US Treasury also added that Zabihpour has a long history of direct involvement in the broadcast of forced confessions of dual nationals, civil society activists, political prisoners, writers, and religious minorities.
In 2017, Zabihpour produced a documentary that tried to portray Nazanin Zaghari-Ratcliff, a British-Iranian woman held hostage by the IRGC on charges of "collaborating with foreign institutions" as a secret agent.
"The United States remains committed to supporting the Iranian people as they continue their peaceful protests. We will continue to hold Iranian officials and government institutions accountable for their human rights violations and their censorship of the Iranian people," noted Under Secretary of the Treasury for Terrorism and Financial Intelligence Brian E. Nelson.