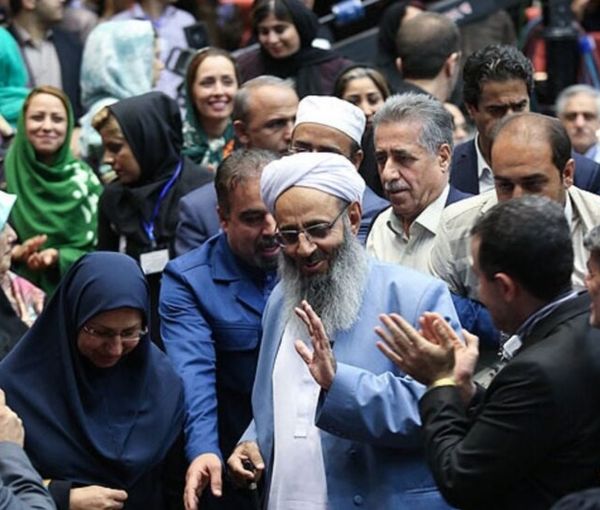 There Is No Time For Reforms, Iran's Leading Sunni Cleric Says
A top Sunni cleric has dismissed the Islamic Republic's efforts to garner the support of the reformists to help contain ongoing unrest, saying the opportunity for reforms is lost. 
In his Friday prayers sermons, Mowlavi Abdolhamid, officially known as Mowlavi Shaikh Abdolhamdid Esmailzehi, said whenever people were willing to go to the polls and vote for the reformist camp, they disappointed them with their inaction. 
"The time was wasted, and we have lost the opportunity for reforms," said the religious leader of Iran's largely Sunni Baluch population living in the southeastern province of Sistan and Baluchestan.
"The reformists did not manage to do anything, and the biggest complaint directed at them is why they did not enact any reforms," he said. Indirectly referring to the Supreme Leader and possibly the Revolutionary Guards and hardliners, Abdolhamid said that if reformists were stopped from pursuing reforms, "why didn't they say who stopped them? Why did they remain silent? Those who came in the name of reformism and did not do anything should have had the courage to say who didn't allow them," he said.
Emphasizing that reformists have lost their chance, he said that "If reforms had been carried out in the Islamic Republic, today the people would not be suffering from miseries, and they would not be shouting for freedom and justice during their protests."
Mowlavi Abdolhamid, who had previously supported Reformist President Mohammad Khatami (1997-2005) and moderate conservative Hassan Rouhani (2013-2021), encouraged Iran's Sunni population to support ultraconservative Ebrahim Raisi in the 2021 presidential election. Later he complained that Raisi failed to fulfil his promises to the Sunni community while millions had voted for him. Following the killing of more than 100 Sunnis in Zahedan during recent protests by security forces, some criticized Abdolhamid for having supported Raisi.
Abdolhamid (L) with President Raisi during the 2021 presidential election
At the start of the reform movement in 1997, Abdolhamid played a key part as a charismatic leader who rallied the Sunnis behind Khatami. The history of the Islamic Republic reveals that any candidate who had Abdolhamid's support won the election in Sistan and Baluchistan and Kordestan provinces.
Abdolhamid's popularity is largely because of his willingness to challenge the absolute authority of Supreme Leader Ali Khamenei. Earlier in November, the outspoken Sunni Imam said women, ethnic and religious groups, and minorities have faced discrimination after the establishment of the Islamic Republic in 1979. He was also brave enough to blame Khamenei for the attack on protesters in his hometown, Zahedan. 
He made the remarks on the backdrop of reports from recent meetings between senior officials and a number of reformist figures. Sources in Tehran say Iran's ruling hardliners are beseeching once popular reformists they purged from power to help save the regime and end the uprising. However, the reformists have been side-lined during the current wave of the protests – ignited by the death in custody of Mahsa Amini, as neither the government nor the protesters consider them a serious political alternative.
Former president Rafsanjani leading a prayer with Mohammad Khatami (C) and Khomeini's grandson (L) as well as former president Hassan Rouhani (2nd left) standing behind him
During his Friday prayers sermons, Mowlavi Abdolhamid also criticized the crackdown on the Kurdish majority cities in western Iran, praising them as one of the best ethnic groups who protected the borders like the people of Sistan and Baluchestan.
Since last week, the Islamic Republic has intensified its repression of Kurdish-majority cities and towns following reports that parts of some small towns have fallen into the people's hands. The majority of Iran's 10 million Kurds live in the western parts of the country. 
"Now that the people of Kordestan are complaining about their problems and protesting, they should not be shot at, and they should not be treated with violence," he said. 
He added that if he were an official, he would listen to the peoples' demands, noting, "It is a matter of concern that many of our officials were not ready to listen to the critics. These problems were created by those who did not allow criticism."
Taking issue with spending Iran's money in other regional countries, the cleric said, "This country does not belong to officials and rulers. It belongs to all of us and we all want this country to be prosperous. Its wealth should be spent here instead of somewhere else."
He also called on the authorities not to give "severe sentences" to protesters and urged the release of the political prisoners, referring to death sentences issued for at least 10 people.
Expressing concern about reports of torture and sexual harassment of prisoners, Abdolhamid cautioned, "There are some reports of mistreatment of prisoners, especially female prisoners, that are difficult for me to say... Torture is against the constitution and is not allowed in any religion."