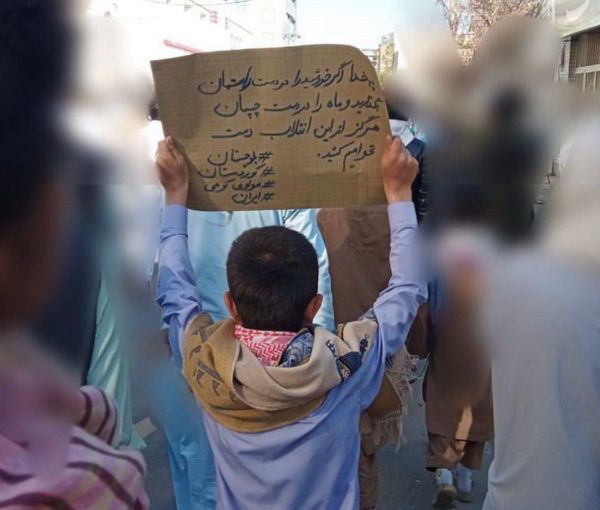 Security Forces Killing In Kurdish, Baloch Cities But Dancing In Tehran
Friday, 26 November, will remain in the history of Iran forever as some security forces were killing people in Kurdish and Baluch cities but were dancing before cameras in Tehran. 
Following a tough Friday prayer sermon by Iran's leading Sunni cleric, people in the southeastern province of Sistan and Baluchestan poured onto streets in several cities in support of the people in Kurdish-majority cities in western Iran. Protesters in provincial capital Zahedan, Chabahar, Khash, Saravan, and Iranshahr were out in streets until late in the night, chanting slogans for freedom and the end of the clerical regime. A noteworthy slogan was "Kurds and Baluchis are brethren, all thirsty for the blood of the leader."
In many cities they were confronted by the security forces who used gunfire and teargas, killing several people. But in the capital Tehran, security forces apparently were ordered to celebrate for the victory of Islamic Republic's football team in its second World Cup match, creating a surreal scene that is bound to remain in the history of the country. 
Defying the resentment of many Iranians over government's killing of 400 people, including about 50 children, in the past two months, the players of the national squad sang along with the Islamic Republic anthem at the beginning of their match against Wales and won the game to keep their hopes alive for qualifying to the knockout stage of the tournament. But people on social media have been slamming them for their disregard toward the bloodshed in Iran. Protesting Iranians also chanted slogans in support of popular footballer Vorya Ghafouri, who was arrested for his outspoken support for protesters. 
Late on Friday, people in several neighborhoods of the capital Tehran, the neighboring city of Karaj and the central city of Esfahan held antigovernment gatherings and chanted slogans against the regime. 
One of the highlights of the day for Iranians was the hacking of Fars news website, a media outlet affiliated with Iran's Revolutionary Guard, which promotes the Islamic Republic's agenda in several languages. The website of Fars News Agency was targeted by Iranian hacktivist group Black Reward and the agency's databases which include confidential news bulletins sent to Supreme Leader's office and IRGC as well as all their recorded calls, correspondence, and financial data were breached. 
Moreover, the commander of IRGC ground forces announced Friday that it has been reinforcing its military on the border with Iraq adjacent to the Kurdistan autonomous region with armored units. 
Iran has deployed military firepower against Iranian Kurdish civilian protesters in western Iran, killing at least 12 people since November 16. It has also repeatedly shelled bases of Iranian Kurdish insurgent groups in Iraq, portraying the popular protests as a separatist movement. Mohammad Esmail Kowsari, a former IRGC commander and currently a member of the Islamic Republic parliament, also confirmed that military units were being dispatched to deal with Kurdish insurgents in Iraq.
Antiriot police forces celebrating in streets of Tehran