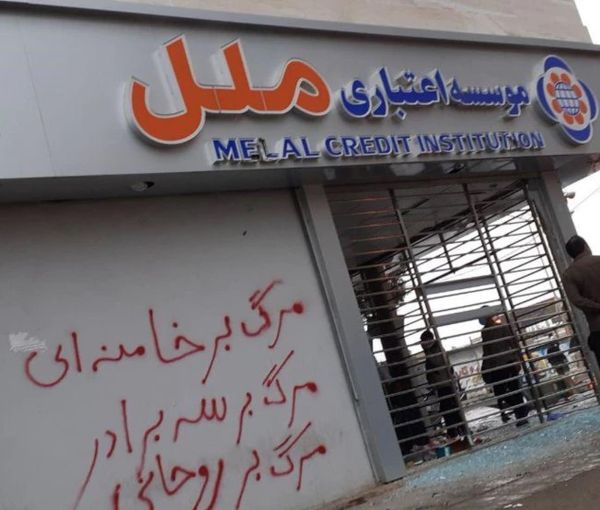 Youth Groups In Iran Call For Protests To Honor Victims Of 2019 Unrest
Anonymous activists in Iran have set Tuesday as commemoration day for 1,500 people killed by security forces in November 2019, calling for large demonstrations.
At the same time, activists abroad have also issued calls for commemoration protests in many cities, spanning from Australia to North America at the end of the month.
A joint call by the Youth of Tabriz, Zanjan, Esfahan, Mashhad, Ahvaz, Gorgan and Babol has urged people to pour into the streets "on the anniversary of the killing of the youths in November 2019," on November 15.
"We will start from high schools, universities and markets and continue with neighborhood-centered gatherings to move to main squares of cities," read part of the statement.
A series of nationwide protests in Iran, sometimes known as Bloody November, took place in 2019. Initially triggered by a 50–200% increase in fuel prices, the demonstrations quickly turned to calls for the overthrow of the government in Iran and Supreme Leader Ali Khamenei. As many as 1,500 Iranian protesters were killed mostly by gunfire of security forces in less than a week.
A scene from protests in Tehran on November 15, 2019
The anonymous youth groups have been issuing calls for protests since popular demonstrations began in September. It appears there is no central leadership organizing the people, but there are possibly links among activists in various parts of the country. The absence of a central leadership has perhaps protected the movement against the government's ability to arrest and hold individuals indefinitely, but at the same time lack of a clear leadership poses its own problems.
So far well-over 300 protesters have been killed and thousands arrested, although the government has not issued any figures.
Earlier, the Association of Families of Flight PS752 Victims announced that a large march would also be held in different cities of the world on Saturday, November 28.
On January 8, 2020, the Islamic Revolutionary Guard (IRGC) shot down Ukraine's International Airlines Flight 752 flying from Tehran to Kyiv shortly after takeoff, killing all 176 passengers and crew aboard. Iran never presented a convincing reason for its callous act and tried to withhold information about the incident. Dozens of victims were Canadian citizens or permanent residents.
Since the current uprising began against Iran's clerical regime almost eight weeks ago, the airliner victims' association has organized large gatherings called, "The Time Has Come" all over the world; including a 100,000-strong march in Berlin and human chains in 80 cities worldwide.
Meanwhile, an anonymous group called "Youth of Lorestan Neighborhoods" also called for protests on Saturday at 5:00 PM in Iran's western province.
Since the eruption of protests following the death of Mahsa Amini in police custody, numerous calls have been issued by groups, institutions, guilds, and associations for demonstrations, gatherings, and strikes.